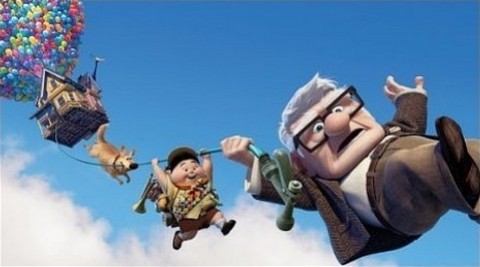 Pixar's Up opened this year's Cannes Film Festival today and the reaction amongst critics has been overwhelmingly positive.
The film is about a retired balloon salesman (Edward Asner) who travels to South America, using 10,000 balloons to make his house fly there aswell as unwittingly taking a young stowaway (Jordan Nagai) with him. 
Directed by  Pete Docter (Monsters, Inc.) it features the voices of Edward Asner, Christopher Plummer, Jordan Nagai and John Ratzenberger.
Todd McCarthy of Variety thinks it is a:
"…captivating odd-couple adventure that becomes funnier and more exciting as it flies along. Tale of an unlikely journey to uncharted geographic and emotional territory by an old codger and a young explorer could easily have been cloying, but instead proves disarming in its deep reserves of narrative imagination and surprise, as well as its poignant thematic balance of dreams deferred and dreams fulfilled. "
Mike Goodridge of Screen Daily is similarly impressed, praising it as:
"a marvel of a movie which will enchant cinemagoers around the world and remain a family favourite for decades to come. A highpoint of ingenuity and storytelling in the Pixar canon and indeed the animated form, this is a fitting opening to this year's Cannes Film Festival; indeed it will be hard for any other film there to match the storytelling genius and gorgeous 3D imagery which Docter and his team have achieved.
Roger Ebert of the Chicago Sun Times compares it to Miyazaki:
"…this is a wonderful film. It tells a story.The characters are as believable as any characters can be who spend much of their time floating above the rain forests of Venezuela. They have tempers, problems, and obsessions. They are cute and goofy, but they aren't cute in the treacly way of little cartoon animals. They're cute in the human way of the animation master Hayao Miyazaki."
Peter Bradshaw of The Guardian thinks:
"It really is a lovely film: smart, funny, high-spirited and sweet-natured, reviving memories of classic adventures from the pens of Sir Arthur Conan Doyle and Jules Verne, and movies like Frank Capra's It's a Wonderful Life and Albert Lamorisse's The Red Balloon, though I sometimes felt that my heart was being warmed by tiny invisible laser-missiles fired from the screen and digitally guided directly into my thorax."
Richard Corliss of Time predicts it will be one of the year's best films:
"…though it's not yet summer, we can declare that Up, like WALL-E, will prove to be one of the most satisfying movie experiences of its year.
Dave Calhoun of Time Out thinks it doesn't quite reach the heights of Pixar's last two films:
"While this 3D joy doesn't reach the same heights of wonder as either 'Wall-E' of 'Ratatouille', it's sharp, short and sweet – a lively, concise fantasy that never takes its eye off real human experience. At least one other critic admitted wiping the tears away from under her chunky 3D glasses."
Jeffrey Wells of Hollywood Elsewhere is also impressed:
"Even by Pixar's high standards it's a notch or two above the norm. Visually luscious and spunky and intriguing at every turn, it's an amusing (i.e., somewhat funny), sometimes touching, briskly paced film that's about…well, pretty much everything that relatively healthy, forward-thinking middle-class people care about."
The official press conference can be seen on the festival site.
> Up at IMDb
> More about Pixar at Wikipedia
> My interview in February with Pixar head honch John Lasseter