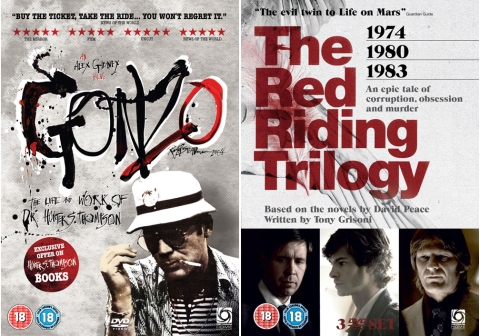 DVD PICKS
Gonzo (Optimum): A new documentary directed by Alex Gibney which explores Hunter S. Thompson's life and times as well as his landmark writings on music and politics with contributions from the likes of Tom Wolfe, Ralph Steadman and Jann Wenner.
Narrated by Johnny Depp, who played Hunter in the 1998 film version of Fear and Loathing and Las Vegas, it is an interesting portrait of a fascinating writer. 
The extras include:
1.78:1 Anamorphic Widescreen
English DD5.1 Surround
Director's Commentary
Extended Interviews
Extended & Deleted Scenes
Ralph Steadman drawings
UK exclusive Alex Gibney interview
Wayward & Weary featurette about tribute song by Tift Merritt
Gallery
Trailer
* Listen to my interview with Alex Gibney from last year *
[ad]
The Red Riding Trilogy (Optimum): A highly impressive trilogy of films adapted by Tony Grisoni from David Peace'scult novels set in Yorkshire during the 1970s and 80s.
The three films are all two hours long and aired recently on Channel 4, boasting an impressive cast including: Mark Addy, Sean Bean, Jim Carter, Warren Clarke, Paddy Considine, Andrew Garfield, Rebecca Hall,Eddie Marsan and David Morrissey.
Produced by Michael Winterbottom and Andrew Eaton's production company, Revolution Films, each film has been directed by a separate director: Julian Jarrold (Brideshead Revisited), James Marsh (Man on Wire) and Anand Tucker (And When Did You Last See Your Father?).
The first is entitled 1974 and explores the paranoia, mistrust and institutionalised police corruption in Yorkshire.
When a young journalist named Eddie Dunford (Andrew Garfield) becomes obsessed with a police investigation into a series of child abductions, he uncovers a complex maze of lies and deceit.
One of the characters he comes across is a local businessman named John Dawson (played by Sean Bean) who, in this clip, advises Eddie to form a mutually beneficial relationship with him.
The second episode, directed by Marsh, set in and called 1980, sees theYorkshire Ripper terrorise the area for six long years, and with the local police failing to make any progress, the Home Office sends in Manchester officer Peter Hunter (Considine) to review the investigation.
Having previously made enemies in the Yorkshire force while investigating a shooting incident in 1974, Hunter finds himself increasingly isolated when his version of events challenges their official line on the "Ripper".
In the final instalment, directed by Tucker and set in and called 1983, another young girl has disappeared and Detective Chief Superintendent Maurice Jobson (Morrissey) recognises some alarming similarities to the abductions in 1974, forcing him to come to terms with the fact that he may have helped convict the wrong man.
When local solicitor John Piggott (Addy) is persuaded to fight this miscarriage of justice he finds himself slowly uncovering a catalogue of cover ups.
It is dark but compelling material and the kind of expensive, challenging drama that Channel 4 at their best can be capable of.
The extras include: 
1974
1.85:1 Anamorphic Widescreen
English DD2.0 Stereo and DD5.1 Surround
Interview with Julian Jarrold
Deleted Scenes
1980
2.35:1 Anamorphic Widescreen
English DD2.0 Stereo and DD5.1 Surround
Making of featurette
Deleted Scenes
1983
2.35:1 Anamorphic Widescreen
English DD2.0 Stereo and DD5.1 Surround
Making of featurette
Deleted Scenes
[ad]
ALSO OUT
A Love To Hide (Peccadillo Pictures)
Dead Wood (DNC Entertainment)
Doctor Who: The Cybermen (2 Entertain)
Hotel Babylon Series 3 (2 Entertain)
Ideal Series Four (2 Entertain)
Inkheart (EIV)
Lady in White – Director's Cut (Optimum)
Max Payne (Fox)
Star Wars: The Clone Wars – A Galaxy Divided (Warner)
The Lost World of Communism (2 Entertain)
The Omid Djalili Show Series 1 (2 Entertain)
The Thick of It: The Specials (2 Entertain)
Two and a Half Men Season 5 (Warner)
> Buy Gonzo and The Red Riding Trilogy at Amazon UK
> Browse more DVD Releases at Amazon UK and Play
> Check the latest DVD prices at DVD Price Check
> Take a look at the current UK cinema releases (W/C Friday 10th April)