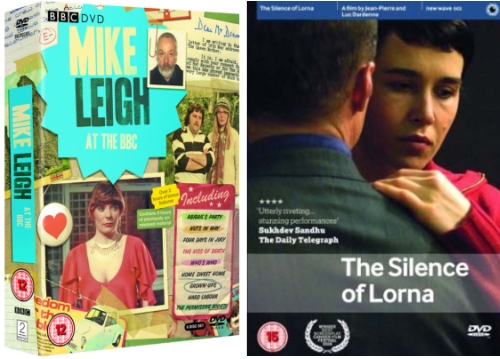 DVD PICKS
Mike Leigh at the BBC (2 Entertain): Priced at nearly £60 this box set of Mike Leigh's early films at the BBC might seem an expensive luxury but, if you can afford it, is actually an excellent insight into a hugely significant part of his career.
Spanning nearly 30 years this collection showcases all of the writer-director's surviving work from the BBC, including his contributions to the influential Play For Today series.
For the first time on DVD, this includes seven of his early films (some with new director's commentaries) as well as two TV studio plays and five engaging short films.
Everything has been restored, and there is a raft of insightful extras.
A six-disc set, the films and features are:
Extras include:
Documentary, "All About Abigail's Party", plus "Welcome", "Party Nibbles", "Intro" & "Goodbye"
The Conversation: Will Self interviews Mike Leigh
The Long Goodbye: Bel Mooney interviews Mike Leigh
Arena: Making Plays: the life and work of Mike Leigh
Audio commentary by Mike Leigh available on Nuts in May,The Kiss of Death, Grown-Ups, Four Days in July
[ad]
The Silence of Lorna (New Wave Films): The latest film from the Belgian brothers Luc and Jean-Pierre Dardenne, who have been a regular fixture at Cannes in the last decade with their contemporary takes on modern European life.
Their best known films are: La Promesse (1996), Rosetta (1999), which won them their first Palme d'or; The Son (2002); and The Child (2005), which secured them a second Palme d'or.
Their new film sees Kosovar actress Arta Dobroshi play Lorna, a young Albanian living in Belgium, who becomes an accomplice to a local mobster's plan.
Extras include:
Interview with Arta Dobroshi
Interview with the Dardenne Brothers
Theatrical Trailer
ALSO OUT
Body Armour (Momentum)
Breakdance 2: Electric Boogaloo (Second Sight)
Breakdance: The Movie (Second Sight)
Criminal Minds Season 3 (Disney)
Demons Season 1 (Sony)
Electric Dreams (Second Sight)
Gavin and Stacey Christmas Special (2 Entertain)
Ghost Whisperer Season 3 (Disney)
Gossip Girl Season 2 Volume 1 (Warner)
Hansel & Gretel (Terracotta Distribution)
Mad Money (Lionsgate)
Madagascar: Escape 2 Africa (Paramount)
Quicksand (Glass Key)
Skins Series 3 (4DVD)
The High Life (2 Entertain)
The Signal (Optimum)
The Tale of Despereaux (Universal)
Twilight (E-1 Films)
Watchmen: Tales of the Black Freighter (Paramount)
Woman on the Run (Glass Key)
Tis Autumn, The Search for Jackie Paris (Drakes Avenue Pictures)
[ad]
> Buy Mike Leigh at the BBC and The Silence of Lorna at Amazon UK
> Browse more DVD Releases at Amazon UK and Play
> Check the latest DVD prices at DVD Price Check
> Take a look at the current UK cinema releases (W/C Friday 3rd April)