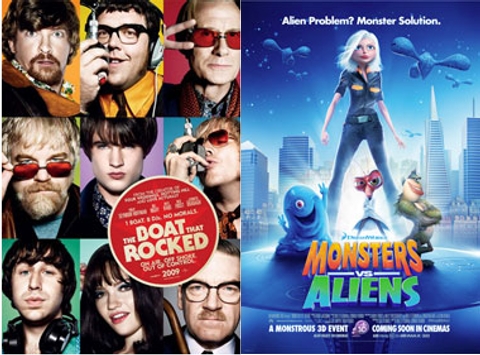 NATIONAL RELEASES
The Boat That Rocked (Universal): The new film from writer-director Richard Curtis is set on board a pirate radio ship broadcasting to the UK in the 1960s.
It stars Philip Seymour Hoffman, Bill Nighy, Rhys Ifans, Emma Thompson, Nick Frost and Kenneth Branagh and Gemma Arterton.
Although it is likely to attracted mixed reviews, the extensive marketing campaign and early opening on April 1st is likely to see it do well, even if probably won't crack the top spot. [Odeon Leicester Square & Nationwide]
Monsters Vs. Aliens (Paramount): The latest animated film from DreamWorks is about a woman (Reese Witherspoon) who, on her wedding day, is struck by a meteorite which causes her to grow into a giant.
The US government takes her away to a top-secret facility where it has impounded all monsters since the war, who have to save the earth when aliens attack. An impressive supporting cast includes Seth Rogen, Hugh Laurie, Will Arnett, Rainn Wilson, Kiefer Sutherland and Stephen Colbert.
A big budget effort, which will screen in 3-D on a lot of cinemas, this has already proved a hit in America and is likely to snag the top spot here too, especially given the family audiences around for the Easter holiday. [Vue West End & Nationwide / Cert PG]
[ad]
IN SELECTED CINEMAS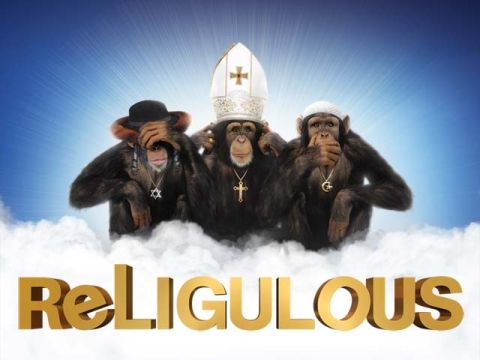 Religulous (Momentum Pictures): A riotous documentary directed by Larry Charles in which US comedian Bill Maher explores the subject of religion.
Travelling to numerous religious places, such as Jerusalem, the Vatican and Salt Lake City, where they interview believers from a variety of backgrounds and groups including a former member of Jews for Jesus, Christians, Muslims, former Mormons and Hasidic Jews. 
Hilarious and refreshing, forget the predictable hand-wringing criticisms that it is smug and imbalanced and take it as a Borat-style experiment – albeit one that is as disturbing as it is funny. [Odeon Panton Street & selected Key Cities / Cert 15]
* Listen to our interview with Larry Charles *
I Can't Think Straight (Enlightenment Films): An Indian romance about a London-based Jordanian woman who fall in love with another woman before her wedding. Directed by Shamim Sarif and starring Lisa Ray and Sheetal Sheth. [Apollo Piccadilly Circus / 12A]
Modern Life (Soda Pictures): A look at several generations of farmers and several farmer families in contemporary France directed by Raymond Depardon. [Gate, Cine Lumiere, Everyman, Renoir & Key Cities / Cert PG]
Waveriders (Element Pictures): A documentary about the unlikely Irish roots of the worldwide surfing phenomenon and Irish/Hawaiian waterman, George Freet. [London & Selected Key Cities / Cert PG]
The World Unseen (Enlightenment Films): Writte and directed by Shamim Sarif, this stars Lisa Ray and Sheetal Sheth as two Indian South African women who fall in love in a racist, sexist, and homophobic society. [Apollo Piccadilly Circus / Cert 12A]
Cherry Blossoms (Dogwoof Pictures): A German film about a married couple (Hannelore Elsner and Elmar Wepper) who decide to to see more of life and visit their son who lives in Japan and Mount Fuji. [ICA Cinema & Selected Key Cities]
> Listen to our interview with Larry Charles about Religulous
> Check out our latest DVD picks (W/C Monday 23rd March)