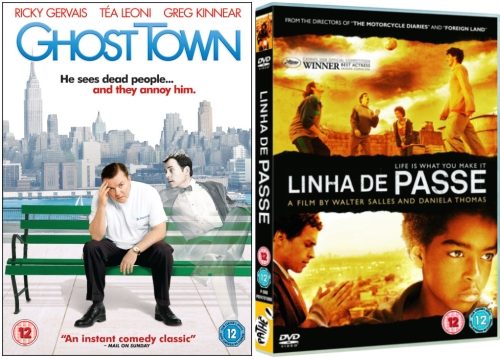 DVD PICKS
Ghost Town (Paramount): The first proper leading man role for Ricky Gervais in a mainstream Hollywood movie is a smartly written comedy about a grumpy English dentist in New York who starts seeing ghosts after an operation goes wrong.
Written and directed by David Koepp (who made the overlooked ghost story Stir of Echoes in 1999, as well as penning blockbusters like Spider-Man and Jurassic Park), it has a neat comic setup, solid supporting performances from Greg Kinnear and Tia Leoni and some surprisingly touching moments.
Available on DVD and Blu-ray, the extras are the same on both and include the following:
Commentary by David Koepp and Ricky Gervais
Making Ghost Town
Ghostly Effects
Some People Can Do It
Linha De Passe (Pathe): An interesting look at contemporary Brazil through the eyes of four poverty-stricken brothers who live in a favela neighborhood in São Paulo.
Directed by Walter Salles and Daniela Thomas, it premiered at the Cannes Film Festival back in May where one of its stars, Sandra Corveloni, won the award for Best Actress.
* Listen to an interview I did back in September with Walter Salles *
[ad]
ALSO OUT
100 Feet (DNC Entertainment)
Bad Biology (Revolver)
Burn Notice – Season 1 (Fox)
Charles Darwin & The Tree of Life (2 Entertain)
Ghost Town (Paramount)
Gran Casino (Optimum)
Incendiary (Optimum)
La Bohème (Axiom Films)
Le Cercle Rouge (Optimum)
Le Doulos (Optimum)
Leon Morin Pretre (Optimum)
My Dinner with Andre (Optimum)
My Name is Bruce (Anchor Bay)
Nights of Cabiria (Optimum)
Oz and James Drink to Britain (Acorn Media)
Pride & Glory (EIV)
Quiet Chaos (New Wave Films)
Secret Diary of a Call Girl: Series 2 (Warner)
The Baxter (Momentum)
The Federico Fellini Collection (Optimum)
The Jean-Pierre Melville Collection (Optimum)
The Midnight Meat Train (Lionsgate)
The Warlords (Metrodome)
Transsiberian (Momentum)
Victorian Farm (Acorn Media)
Waterloo Road – Series 3 (Acorn Media)
Wise Blood (Second Sight)
> Buy Ghost Town and Linha de Passe  at Amazon UK
> Browse more DVD Releases at Amazon UK and Play
> Check the latest DVD prices at DVD Price Check
> Take a look at the current UK cinema releases (W/C Friday 27th February)