Some prankster has released what is almost certainly a fake document detailing the 'Oscar winners' on Sunday.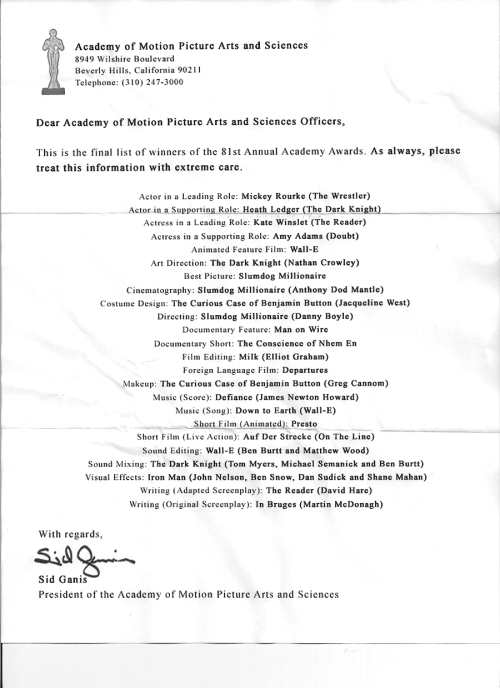 It is purportedly a 'memo' from AMPAS President Sid Ganis, but not only does it look fake, they have also made the mistake of listing Ben Burtt as working on The Dark Knight (he didn't).
Academy spokesperson Leslie Unger has issued a stern denial to Entertainment Weekly, saying:
"The document is a complete fraud.

PricewaterhouseCoopers is still counting the ballots and there are only two people there who will know the complete list of winners in advance of the envelopes being opened during the ceremony.

The Academy's president is not advised of the winners in advance and no such list is created with his name on it."
However, in some respects, it is a sly hoax as the purported 'winners' in the big categories are heavily tipped to win anyway (Slumdog Millionaire for Best Picture, Danny Boyle for Best Director, Mickey Rourke for Best Actor and Kate Winslet for Best Actress).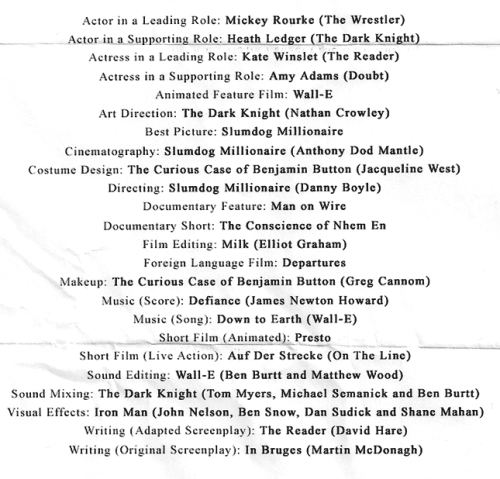 So, the nightmare scenario for the Academy will be the (highly unlikely) event in which all these 'predictions' come in.
Even if it was a fake, a lot of people might not believe protestations to the contrary.
But it is worth remembering how the voting process actually works.
Once the ballots are in, the accounting firm PricewaterhouseCoopers tabulates the nominee ballot votes in secrecy.
The Academy then announces the nominees in an early morning press conference and soon after the Academy mails the final ballots to all members.
They then have two weeks to return their final votes and then polling is closed.
PricewaterhouseCoopers tabulates the votes in absolute secrecy and seals the results.
After all the ballots are in, and the votes are counted, it all comes down to the actual night itself.
There is an urban myth that in 1992 Marisa Tomei was wrongly awarded the Oscar for Best Supporting Actress because the presenter Jack Palance read the wrong winner out.
However, one of the reasons this isn't true is because, since 1953, two representatives from PriceWaterhouseCoopers are waiting in the wings when each award is announced.
If, for some reason, the presenter announced the wrong winner then they would come on stage and re-announce the real winner.
But if the hoax winners correspond to the real ones, expect the conspiracy theories to begin in earnest.
> The full list of this year's Oscar nominations
> Snopes on the Marisa Tomei myth
> How Stuff Works on The Oscars 
> A Slate article questioning whether PWC can be trusted with the Oscar results