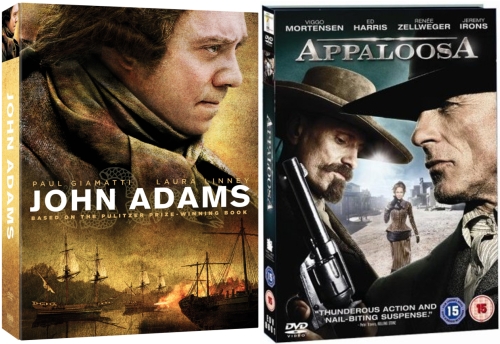 DVD PICKS
John Adams (HBO): Based on David McCullough's Pulitzer Prize winning biography of the second president of the United States, this HBO miniseries arrives on DVD in the UK after winning several awards and garnering considerable critical acclaim.
For those unfamiliar with the title character, he was one of the key figures in the creation of the United States and its struggle for independence from Great Britain.
An impressive cast features Paul Giamatti as John Adams, Laura Linney as his wife Abigail, Stephen Dillane as Thomas Jefferson, David Morse as George Washington, Tom Wilkinson as Benjamin Franklin and Rufus Sewell as Alexander Hamilton.
The seven episodes chronicle the key chapters of Adams' life, which span the first fifty years of the United States:
A hugely ambitious project, this miniseries offers us a fascinating insight into the early years of the United States as seen through the lens of one of the key founding fathers.
Director Tom Hooper (who was also behind HBO's 'Elizabeth I') and writer Kirk Ellis have done an amazing job of distilling McCullough's 700-page book into seven epiosdes that are rich with drama and detail.
Technically, it is first rate with some marvellous cinematography by Tak Fujimoto capturing the candle lit interiors and and outdoor landscapes superbly well.
The sets and locations are also extremely impressive, making clever use of CGI which is nicely woven into the action without ever being distracting.
It was filmed in the Colonial Williamsburg Historic Area in Virginia and Hungary for the European locations and also features 125 speaking roles, so it is mounted on a scale unusual even for an HBO project.
However, unlike some historical dramas it goes beyond the settings and costumes to grapple with the underlying themes and and issues at stake in the birth of the United States of America.
Part of what makes the series so attractive is the extraordinary nature of Adams' life – one that encompassed so many crucial events in a remarkable period of history.
He personally embodied many of the ideals upon which the nation was founded and also had a remarkably strong relationship with Abigail, his feisty wife of 54 years.
Given the importance of the War of Independence you might wonder why it has been so poorly represented on screen but perhaps the shadow of the disastrous Revolution (1985) still hangs over anyone that attempts to pitch a project set in the era.
A good deal of credit then must go to producer Tom Hanks and HBO for attempting such a bold and sweeping project, with a reported budget of $100 million.
It has paid off with plaudits and swept the board at the 2008 Emmy Awards with 17 nominations and 13 wins including, 'Outstanding Actor', 'Outstanding Actress' and 'Outstanding Mini-series' and also won four awards at the 2009 Golden Globes.
This 3-disc, 7 part mini series clocks in at 501 minutes and comes with the following extras:
David McCullough – Painting with Words: Explore the artistry of this two-time Pulitzer Prize winner and his approach to writing history.
Making of John Adams: A behind the scenes feature with the cast and crew as they talk about bringing the book to screen, and including an on-set and location tour.
On Screen Historical Guide: An on screen guide which pops up historically relevant information about John Adams and his time period during each of the 7 episodes.
Overall it is a landmark piece of television and one of the best DVD releases to come out this year.
Appaloosa (EIV): Based on the 2005 novel by Robert B. Parker, this superb western centres around a lawman named Virgil Cole (Ed Harris) and his deputy Everett Hitch (Viggo Mortensen), two friends who are hired to defend a lawless 1880s town from a murderous rancher (Jeremy Irons). Their efforts are disrupted and friendship tested by the arrival of a woman (Renée Zellweger).
Although it followed the fate of most westerns by dying at the UK box office, is a rich and highly accomplished film, well worth seeking out on DVD.
The extras on the disc include:
Commentary by Ed Harris and Screenwriter-Producer Robert Knott
Bringing the characters of Appaloosa to life
Historic accuracy of Appaloosa
The Town of Appaloosa
Dean Semler's return to the Western
Deleted scenes
[ad]
ALSO OUT
Alfresco: The Complete Series (Network)
Category 6: Day of Destruction (Brightspark)
Death Race (Universal)
Faintheart (Vertigo Films)
Fear(s) of the Dark (Metrodome)
Igor (Mometnum)
Immortal Beloved (Icon)
JCVD (Revolver)
Life – Season 1 (Universal Playback)
Paris (Optimum)
Quo Vadis (Warner)
Redbelt (Sony)
Roadkill 2 (Fox)
RocknRolla (Warner)
Step Brothers (Sony)
The Accidental Husband (Momentum)
The Black Balloon (Icon)
The Chaser (Metrodome)
The Cosby Show – Season 4 (Universal Playback)
Trip to Asia: The Quest for Harmony (Axiom Films)
Unrelated (New Wave Films)