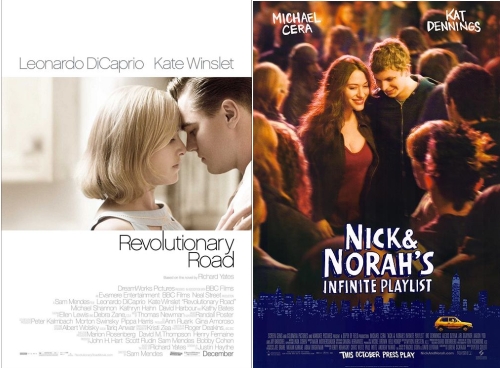 NATIONAL RELEASES
Revolutionary Road (Paramount): Adapted from the acclaimed 1961 novel by Richard Yates, this stars Leonardo DiCaprio and Kate Winslet as a young married couple who yearn to break free of their stifling lives in surburban Connecticut. Directed by Sam Mendes from a script by Justin Haythe, it was widely expected to garner critical acclaim and Oscar nominations. 
It hasn't quite worked out that way because the film, despite having numerous qualities, doesn't quite add up to more than the sum of its parts. Winslet is excellent as the frustrated housewife yearning for a deeper existence, but DiCaprio feels a little adrift in a more unsympathetic role as her husband. In the supporting cast Michael Shannon and Kathy Bates are interesting but occasionally come across as too one note in how they comment on the central characters, almost as if they are a 1950s-style Greek chorus.
One can't help avoiding comparisons to Mad Men, a TV series that covers the same period with a richness and originality that a film like this can't really match. Despite the problems, there is much technical brilliance here to feast on: Roger Deakins continues to dazzle with some marvellous cinematography, whilst regular Mendes colloborator Thomas Newman delivers another affecting score that complements the action superbly (watch out for the dance sequence).
The overall effect of the film is a rather downbeat, a factor which may have reduced its Oscar chances and could limit its box office here in the UK. Although on paper, two big stars in a prestige picture would seem likely to do well, word of mouth might affect its long term theatrical gross when certain audiences (i.e. couples) realise how close to the bone the film cuts in its depiction of an unhappy marriage. [Cert 15 / Odeon Leicester Square & Nationwide]
Nick And Norah's Infinite Playlist (Sony Pictures): I'm very reluctant to call this film, based upon the novel by Rachel Cohn and David Levithan, a romantic comedy because that genre has been polluted by mindless garbage appealing to female audiences who should know better. However, it would be an accurate depiction of this charming tale of two people (Michael Cera and Kat Dennings) who fall in love over the course of one night in New York.
In some ways you could call it a genuine romantic comedy because it is both romantic and funny, but it is also smarter than the average movie of this type. The two lead characters are nicely drawn and there is a standout supporting performancefrom Ari Graynor as one of Norah's best friends. I'm surprised it didn't do better in the US when it opened there back in October, but perhaps Sony couldn't find the right marketing hook for it. The impressive soundtrack and feelgood vibe might ensure more success for the film as people discover it on DVD.  [Cert 12A / London & Nationwide]
[ad]
IN SELECTED RELEASE
Barry Lyndon (PG): The BFI give a limited re-issue for Stanley Kubrick's masterful 1975 adaptation of  William Makepeace Thackeray's novel The Luck of Barry Lyndon about the adventures and misadventures of an 18th century gambler and social climber (Ryan O'Neal). The visuals by cinematographer John Alcott (who won an Oscar for his work) were lit with a specially-adapted Zeiss camera lens originally developed for NASA and are still quite stunning to behold. One re-issue definitely worth catching on a cinema screen, especially as Warner Bros can't be arsed to give it a decent DVD release. [BFI Southbank]
The Broken (The Works): A contemporary horror thriller written and directed by Sean Ellis and starring Lena Headey as woman who wakes up in the hospital following an encounter with a mysterious doppelganger. Richard Jenkins co-stars, but this is unlikely to make any serious waves at the UK box office. [Cert 15 / London & Key Cities]   
JCVD (Revolver Entertainment): An action film directed by Mabrouk El Mechri, and starring Jean-Claude Van Damme as himself (!), a down-and-out action star whose family and career are crumbling around him as he's caught in the middle of a post office heist in his hometown of Brussels, Belgium. [A limited release at the Prince Charles Cinema in London]   
Luck By Chance (Adlabs Films): A Bollywood film directed by Zoya Akhtar that stars Konkona Sen Sharma and Farhan Akhtar with Rishi Kapoor, Dimple Kapadia, Juhi Chawla, Hrithik Roshan, Isha Sharvani and Sanjay Kapoor in the supporting cast. Supposedly a satire of the Bollywood film industry, it is about an actor named Vikram Jaisingh (Farhan Akhtar) who arrives in Bombay to make it big as a film star with the help of a TV star friend.  [Cert 12A]
Tokyo Sonata (Eureka Entertainment): A drama directed by Kiyoshi Kurosawa about an everyday Japanese family that slowly disintegrates after its patriarch loses his job at a prominent company. [Cert 12A / ICA Cinema & Key Cities] 
> UK Cinema Releases for January 2009
> Get the latest showtimes for your local cinema via Google Movies
> Check out our latest DVD picks (W/C Monday 26th January)