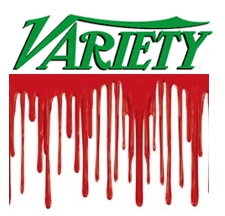 Industry trade paper Variety have announced a raft of layoffs.
Those let go include: 
Anne Thompson 
Diane Garrett 
Mike Jones 
Phil Gallo 
Andrew Barker 
Lisa Weinstein 
Martha Hernandez 
Alys Marshall 
Byron Perry 
Ben Fritz 
Jeff Sneider
The trade have issued the following statement about who has 'ankled':
"Due to the economic downturn, some 30 staffers will be trimmed by Reed Business in Los Angeles.

The staff reductions span corporate, editorial, sales and other personnel.

Among the businesses involved are Daily Variety, 411,Video Business and Trade Show Week.

Neil Stiles, president and publisher of Variety, said: "We continue to have confidence in the long-term growth of our businesses, but the economic realities of the moment call for a degree of belt-tightening."
"The modest staff cuts will in no way compromise the editorial integrity ofVariety or Daily Variety," said editor-in-chief Peter Bart, who acknowledged that several of those cut were reporters and copy editors.

"However, Neil and I deeply regret that any personnel had to be let go in these difficult times."
It is another sign that things are getting worse not only in the wider economy but also in the media.
Thompson was recruited by Variety in 2007 from the Hollywood Reporter and her Thompson on Hollywood blog was always a useful source of news and comment on the film industry.
She has written that she'll keep the blog going and is also involved in a web start-up which is in 'stealth mode' and should 'launch soon', as well as teaching film criticism at USC.
In many ways the trade paper's relatively recent foray into blogs and new media was a positive one, even though at times editor-in-chief Peter Bart has seemed a reluctant convert.
But the immediate cause for these deep cuts would appear to be a major advertising downturn, in particular the awards season advertising upon which a paper like Variety feeds.
David Poland at The Hot Blog has written more about how the continued awards success of Slumdog Millionaire is costing Variety 'for your consideration' ad money, who would prefer the heavier marketing spend of 'The Curious Case of Benjamin Button'.
This may be true but the size of these cuts seem to hint at deeper problems, not only for a major publication like Variety but also for smaller outlets who all rely on advertising.
In the meantime we can only hope that all those affected get back on their feet soon.
> Variety announce the cuts 
> Nikki Finke, Defamer and Hollywood Elsewhere have their say