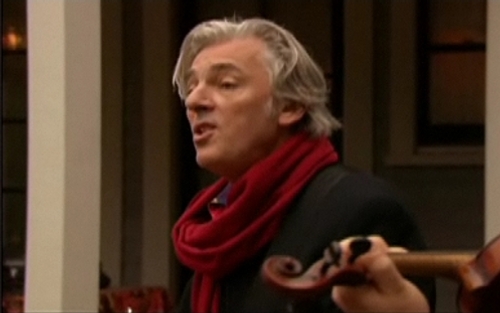 Rachel Getting Married is a drama about a young woman named Kym (Anne Hathaway) who returns home from rehab for her sister Rachel's (Rosemarie DeWitt) wedding.
It was written by Jenny Lumet and directed by Jonathan Demme in a naturalistic, documentary style.
Robyn Hitchcock is one of England's most enduring contemporary singer/songwriters who also appears in the film as part of the wedding band. 
He has collaborated with Demme before on the 1998 concert film Storefront Hitchcock and released many acclaimed albums throughout a distinguished career. 
I spoke with him recently in London about Rachel Getting Married:
[audio:http://filmdetail.receptionmedia.com/Robyn_Hitchcock_on_Rachel_Getting_Married.mp3]
You can download this interview as a podcast via iTunes by clicking here
Rachel Getting Married is out now at selected UK cinemas
> Download this interview as an MP3 file
> Rachel Getting Married at the IMDb
> Official site for Robyn Hitchcock 
[Image:  Sony Pictures Classics  © 2008]