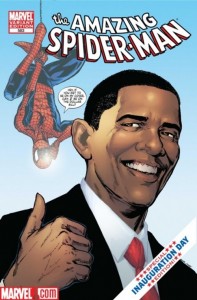 President-elect Barack Obama has teamed up with Spider-Man.
Marvel have announced a special tribute issue:
To celebrate the upcoming inauguration of Barack Obama, Marvel is proud to present an all-new story teaming up one of the world's most recognizable political figures with the world's greatest super hero as President-Elect Obama joins Spider-Man in "Spidey Meets the President!"

Written by Zeb Wells with art by Todd Nauck and Frank D'Armata, the story takes place in Washington, D.C. on Inauguration Day and finds one of Spider-Man's oldest foes attempting to thwart the swearing in ceremony of the 44th President of the United States. 
Obama reportedly collected Spider-Man comics as a child, so Marvel wanted to give him a 'shout-out back' by featuring him in a bonus story, said Joe Quesada, Marvel's editor-in-chief.
Spidey even gets a fist bump from the incoming president:
The Obama story is a bonus in Marvel Comic's Amazing Spider-Man #583, available in comic book shops on January 14th and is expected to sell out, with half the covers devoted to Obama.
But can I suggest Marvel do another special issue for the outgoing vice-president? 
Maybe a teamup with Kingpin?
Marvel describe the bald-headed Spidey villain (aka Wilson Fisk) as:
…a criminal mastermind who is involved in extensive illegal activities such as drug running, smuggling, murder, and so forth.

Despite this, he has no criminal record and an army of lawyers to keep it that way, and is a criminal financial strategist without parallel. 
Remind you of anyone?