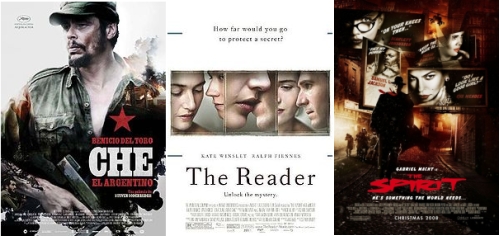 NATIONAL RELEASES
Che: Part One (Optimum Releasing): In the UK Stephen Soderbergh's biopic of Che Guevara (played by Benicio Del Toro) will be released in two parts with some cinemas showing special double-bill screenings. In the first part we see the Cuban Revolution inter-cut with Guevara's 1964 trip to the United Nations and refreshingly it eschews the narrative cliches of many historical biopics.
Instead of ponderous meditations on motives or background we are plunged into the raw action of the revolutionary's life. Soderbergh has always been a gifted technical filmmaker interested in pushing the boundaries of mainstream cinema and here he has crafted one of his most interesting and accomplished films with the help of a revolutionary digital camera (appropriately called the RED One) that has allowed him to make an epic using guerrilla film-making techniques. 
The spiritual core of the film is an outstanding performance from Del Toro, who captures the physical and vocal mannerisms of Che so well that he manages to make you forget about the face that spawned so many t-shirts and posters. UK box office could be good, given positive word of mouth and a wider release than normal for a foreign language film. Che: Part Two is released on February 20th. [Cert 15 / Odeons Camden, Covent Garden, Curzon Soho & Nationwide – Previews 1 Jan]
The Reader (Entertainment): The adaptation of the 1995 German novel by Bernhard Schlink follows a complicated love affair in the 1950s between a German teenager named Michael Berg (David Kross) and a woman twice his age called Hannah Schmitz (Kate Winslet). Years later as a law student he discovers a terrible secret about his former lover and struggles to deal with the repercussions of her actions in World War II. 
It is directed by Stephen Daldry and Ralph Fiennes plays Berg as an older man struggling to deal with his past. With a script by David Hare (who worked with Daldry on The Hours) this was always going to be an awards season contender, although some mixed reviews in the US and the UK might harm its word of mouth. 
It is a well crafted and involving tale with three very solid performances from Winslet, Fiennes and Kross. Daldry and Hare have managed to preserve the knotty moral questions of the book – something which appears to have really riled critics of the film – and the cinematography from Roger Deakins and Chris Menges is first rate.
Given the popularity of the book, two notable leads and current awards season buzz, UK box office could be good if not spectacular. [Cert 15 / Vue West End & Nationwide]
* Listen to our interview with Stephen Daldry and Ralph Fiennes on The Reader *
The Spirit (Lionsgate UK): Frank Miller's adaptation of the newspaper comic strip by Will Eisner is about a murdered cop who is mysteriously reborn as the masked crime fighter called the Spirit. Although it stars a newcomer (Gabriel Macht) in the central role the supporting cast contains such luminaries as Samuel L. Jackson, Scarlett Johansson and Eva Mendes. 
The big challenge for the film is the deluge of negative reviews which could harm the box office, however it is the only mainstream action film out this weekend so it could do some decent business this weekend. [Cert 12A / Vue West End & Nationwide]
Sisterhood Of The Travelling Pants 2 (Warner Bros): A sequel to the 2005 film The Sisterhood of the Traveling Pants which sees the original cast and real life friends (America Ferrera, Amber Tamblyn, Alexis Bledel and Blake Lively), return to star in the movie, which was directed by Sanaa Hamri. [Cert 12A / Nationwide]
[ad]
IN SELECTED RELEASE
Bring Me The Head Of Alfredo Garcia (Park Circus): A re-release for Sam Peckinpah's 1971 film about an American bartender and his prostitute girlfriend who go on a road trip through the Mexican underworld to collect a $1 million bounty on the head of a dead gigolo. [Cert 18/ BFI Southbank & Key Cities]
> UK Cinema Releases for January 2009
> Get the latest showtimes for your local cinema via Google Movies
> Check out our latest DVD picks