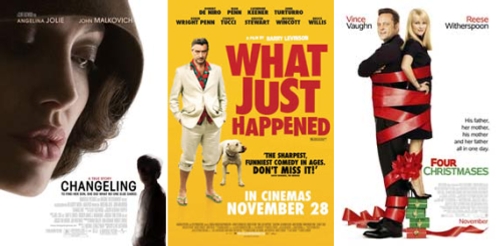 NATIONAL RELEASES
Changeling (Universal): Based on a series of incredible real life events in Los Angeles during the late 1920s this drama sees Angelina Jolie play a woman whose son is kidnapped. When the LAPD find him several months later she struggles to accept that it is her real son and a battle ensues that uncovers dark secrets at the heart of the city.
Directed by Clint Eastwood, this is a film almost designed for the awards season with the period setting, serious tone and big central performance almost screaming for Oscar recognition. However, like the young boy presented by the LAPD, something doesn't feel quite right at the heart of the film. Although Jolie can really click in the right role (like last year's A Mighty Heart) she feels too much like a movie star in period dress to fully convince here.
As for the supporting actors they range from the excellent (John Malkovich, Jason Butler Harner and Geoff Pierson) to the downright weird (Jeffrey Donovan). That said the story is very absorbing – mainly down to the fact that it is almost unbelievable – and although the film does start to drag at the 2 hour mark (the running time is 141 mins) you do want to keep watching. Period detail and technical aspects are all fine and Eastwood directs with his customary taste, tact and intelligence.
Interestingly, this is the first film made by Clint for a studio other than Warner Bros since Absolute Power in 1997 and is his first directed for Universal since The Eiger Sanction in 1975. Universal will hope the Jolie factor will attract female audiences and that discerning males will be intrigued by the Eastwood's recent track record. [Cert 15]
What Just Happened? (Pathe): Robert De Niro stars as a movie producer in this satirical comedy-drama based on Art Linson's book of the same name that details his experiences in Hollywood. Directed by Barry Levinson it stars Robert De Niro as a fading Hollywood producer trying to deal with awkward stars, ruthless studio execs, test screenings and a second divorce.
If you haven't read the book then I would highly recommend it, as Linson is a perceptive and frequently hilarious guide to the often nightmarish world of producing inside the studio system. In particular, the chapters on The Edge (a 1997 movie with Anthony Hopkins, Alec Baldwin and a bear) are laugh out loud hilarious and provide some of the inspiration and source material for this film.
There are some good set pieces (Bruce Willis and Sean Penn have fun playing themselves) but overall the film isn't in the same league as classier digs at film making like The Player or Living In Oblivion. Pathe will be hoping that the De Niro factor can still work some box office magic, but given how badly his once legendary status has been tarnished in the last decade, that might be wishful thinking. [Cert 15]
Four Christmases (Entertainment):  Vince Vaughn and Reese Witherspoon as a couple pressured into visiting all four of their divorced parents' homes on Christmas Day and the supporting cast includes Sissy Spacek, Mary Steenburgen, Kristin Chenoweth, Jon Voight, Jon Favreau and Robert Duvall. For the second year in a row Vaughn is taking the Christmas movie shilling (after last year's Fred Claus). 
Although Christmas themed films don't always equal great initial box office they have tremedous repeat value every December for TV schedulers hungry for yuletide pap, which means healthy residual cheques for all concerned. I'm sure actors have other reasons for doing these kinds of movies, but you get the general idea. This one has two decent name stars and a very respectable supporting cast but may struggle to make an impact at the box office unless the quality is good.
So far critical reaction has been mixed, to say the least. The Hollywood Reporter has called it "one of the most joyless Christmas movies ever" whilst Variety thinks it an "oddly misanthropic, occasionally amusing but thoroughly cheerless holiday attraction that is in no way a family film", whilst the Associated Press say the film "began with some promise" then segued into "noisy joylessness [that] sets the tone for the whole movie". Entertainment wll be hoping that this won't put off audiences eager for some Christmas fare. [Cert 12A]
[ad]
SELECTED RELEASES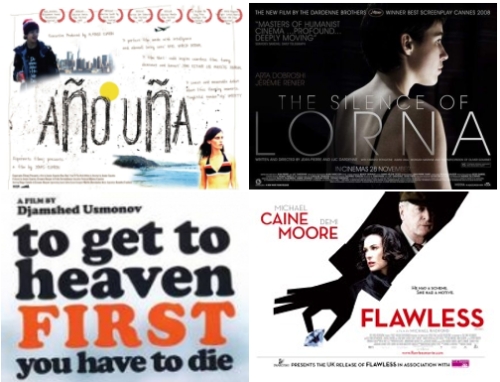 Año Uña (Unanimous Pictures): An interesting film directed by Jonás Cuarón about a Mexican teenager and an older American woman who meet one summer. Unusually, it was edited entirely from photographic stills and was made without a script or set. [Showing at Curzon, Renoir, Ritzy & Selected Key Cities / Cert 15]
* Listen to our recent interview with Jonás and Alfonso Cuarón *
Flawless (Metrodome): A crime/drama set in 1960 London, where a soon to retire janitor (Michael Caine) convinces a glass-ceiling constrained American executive (Demi Moore) to help him steal a handful of diamonds from their employer, the London Diamond Corporation. [Apollo West End & Key Cities]
The Silence Of Lorna (New Wave Films): The latest film from Luc Dardenne and Jean-Pierre Dardenne and it deals with a young Albanian woman living in Belgium who becomes an accomplice to a local mobster's plan. [Showing in Key Cities / Cert 15]
To Get To Heaven First You Have To Die (Trinity Filmed Entertainment): A drama abut a young man who runs away from a loveless marriage in a rural city to a big city where he gets involved with organised crime and falls in love with a beautiful woman. Unfortunately she is married to one of the mafiosi for whom Kamal works. Written and directed by Jamshed Usmonov. [Showing at the ICA Cinema in London and Bristol, Edinburgh, Manchester, Nottingham & Sheffield from 12th December]
[ad]
> Get local showtimes for a cinema near you via Google Movies (just enter your local postcode)
> The rest of the UK cinema releases for November 2008
> Check out our latest DVD picks for this week (From Monday 24th November 2008)