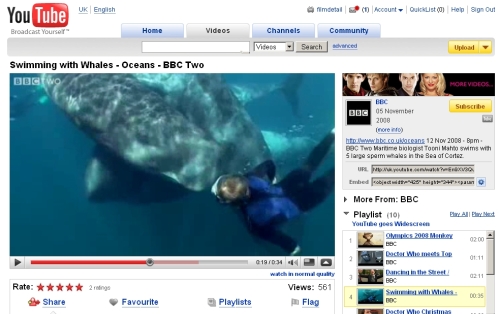 You may have noticed recently that YouTube videos have switched to a widescreen ratio. 
Or to be technical about it, they have changed the aspect ratio of their video player from 4:3 to 16:9.
This appears to apply to all videos, so the 4:3 videos are screened in a pillarbox format.
They also now offer some of its videos in true HD format, with a resolution of 1280×720 pixels.
Videos uploaded with 720 pixel resolution can be viewed in this format by adding &fmt=22 to the web address.
The changes were announced yesterday via their blog:
"We're expanding the width of the page to 960 pixels to better reflect the quality of the videos you create and the screens that you use to watch them.

This new, wider player is in a widescreen aspect ratio which we hope will provide you with a cleaner, more powerful viewing experience."
This is an eager user describing the benefits of widescreen:
(Here is a playlist of BBC videos that look nice in the widescreen format)
What this development suggests is that they are getting ready for streaming movies and TV shows via their site in order to directly compete with Hulu and Vimeo.
CNET have a theory with regard to the former:
YouTube parent Google may be trying to duplicate the success of competitor Hulu, which has become the top outlet for watching full-length films and TV shows on the Web, and is reportedly generating as many ad dollars in its first year in business as YouTube, which will mark its fourth birthday in February.
They recently signed a deal with MGM to stream films and I would be surprised if they didn't have plans with other studios in the pipeline.
Warner Bros and Sony would seem the likely candidates given that Fox and Universal are joint partners on Hulu, Paramount are owned by a company (Viacom) that are currently trying to sue Google, whilst Disney appear happy to go down the iTunes route.
is it possible that all of them may partner with the video sharing site in the future if it can help them?
Reuters recently reported that the UK production company FremantleMedia (behind numerous reality shows, game shows and other entertainment) have plans to produce shows exclusively for YouTube for an undisclosed revenue split.
But what about Google?
Despite owning the most successful video site on the web, YouTube remains something of a conundrum for it's corporate parent.
Although massively popular and possessing a great brand name, how do they monetise it effectively?
Google are still gushing money but there are still question marks over the copyright issues that have infuriated the likes of Viacom and how advertising will fit in to the general ethos of the site without making it suck.
According to a Fortune article back in March delivering free video wasn't cheap:
YouTube sends a staggering 1,000 gigabytes of data every second, or nearly 300 billion GBs each month.

Several industry insiders estimate that YouTube spends roughly $1 million a day just to pay for the bandwidth to host the videos.

By that number, YouTube downloads would account for roughly 3% of Google's $11.5 billion operating costs for 2007. 
Here is a video from June of CEO Eric Schmidt talking to Ken Auletta about the future of YouTube (go to 6.20):
My guess is that they will start showing more premium content alongside the user generated videos but somehow find a way of importing their lucrative text-based Adsense model into video.
Is the shift to widescreen a move in that direction?
> YouTube blog post announcing the move to widescreen
> A playlist of widescreen YouTube videos from the BBC
> CNET on the story
> Find out more about Widescreen at Wikipedia