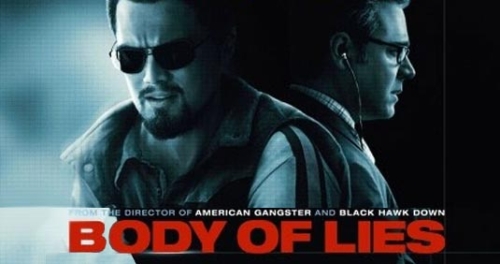 A couple of weeks ago I though it would be an interesting idea to write a bit more in depth about how films are made and released at UK cinemas.
Hopefully, this series of posts will give you more insight into the development, production and release of films in this country, ranging from big budget Hollywood productions to more arthouse fare.
First up for consideration is Body of Lies which is the big release this week from a major Hollywood studio, in this case Warner Bros.
Based on the novel of the same name by David Ignatius, the story is about a CIA operative (Leonardo DiCaprio) who goes to Jordan to track an elusive terrorist leader behind a wave of attacks in mainland Europe.
Directed by Ridley Scott, written by William Monahan and also stars Russell Crowe and Mark Strong in key supporting roles.
It is quite an interesting mainstream film in that it is a major release filled with A-list talent (all things big studios love) but at the same time deals explicitly with a dark, contemporary subject (something they are less keen on, especially as films about the war on terror have tanked at the box office).
So, how did this come about?
DEVELOPMENT
Over two years ago in March 2006, Warner Bros. hired screenwriter William Monahan to adapt a novel called 'Penetration' by David Ignatius, which would be directed by Ridley Scott.
Possibly due to the fact that the original title of the book sounded a bit like a porn movie, it was retitled in 2007 to 'Body of Lies', as was the film.
Variety reported in May 2006 that an item called 'Warner sets spy team':
Warner Bros. has set William Monahan to adapt David Ignatius' Middle East espionage novel "Penetration," with Ridley Scott to direct. De Line Pictures is producing with Scott Free.While Monahan most recently drafted the Hong Kong hit "Infernal Affairs" into Martin Scorsese-directed drama "The Departed," he got his start as a screenwriter by scripting the Middle East-set pics "Tripoli" and "Kingdom of Heaven"' for Scott.

With "Penetration," they reteam on a thriller that sends a CIA operative to Jordan to track a high-ranking terrorist. The spy is aided by the head of Jordan's covert operations in an uneasy alliance that leads to cultural and moral clashes between the men. WB exec veep Lynn Harris will shepherd the drama along with Scott Free's Michael Costigan.
What's interesting about this story is that it shows that the desire amongst creatives to do Iraq themed movies.
In the years following 9/11 the big studios stayed clear of the war on terror for fear of alienating the US public or being deemed 'unpatriotic' (which they are anyway, but never mind).
However by 2006, clearly the stars, agents and directors were willing to tackle what is one of the defining news stories of this decade.
But who would star in it? If you are Warner Bros and already have an A-list director on board, you also need a big star in order to help recoup the budget at the box office.
Step forward Leonardo DiCaprio. In April 2007 Variety again reported:
DiCaprio's deal has to be negotiated, but he already has worked the picture into his busy schedule.

He'll make it this fall after first reteaming with"Titanic" co-star Kate Winslet on "Revolutionary Road," the Sam Mendes-directed DreamWorks drama that shoots in April.

Scott already is scouting venues in Morocco for a film that will shoot in Washington, D.C., Europe and the Middle East.
After DiCaprio was on board, Russell Crowe also joined for a supporting role.
Interestingly, Crowe anticipated back then that the film might not be popular, saying to MTV:
I think the perspective of 'Body of Lies' is ongoing," he said of the script.

It's machinations and creations of the American government, in terms of its foreign policy.

I don't think it's so responsive to what's happening now — because what's happening now is actually the fruit of seeds planted two or three decades ago, if not more.

But I think it's timely to do a movie like that … it's important, and Ridley is up for [portraying] the true negatives of this web of intrigue that's been created."

I don't think it will be very popular," Crowe insisted. "But that's never been part of my project choice process."
At this stage it might seem odd that a major studio (especially as one as keen on popcorn movies as Warner Bros) would be green-lighting this type of material.
But I'n guessing that a combination of star power (studios always want to please A-listers) and the hope that Scott could do what he did with Black Hawk Down (i.e. turn military themed material into an accessible hit) made Alan Horn and the suits at Burbank feel this could be a smart and accessible thriller that touched on modern issues.
So, with the cast set and locations scouted, production was all set to begin.
PRODUCTION
Now, how much does a film like Body of Lies cost to produce?
Actual budgets for films are very hard to come by as studios (for various different reasons) want to keep that information secret, but various pundits and organisations come up with estimates.
The IMDb reckons $70 million, as do Box Office Mojo. That though is just the production budget, which doesn't include the marketing of the film once it is completed.
The film was shot on location in Washington D.C., Europe and various locations in the Middle East.
However, Dubai in the United Arab Emirates was dropped after the National Media Council there took exception to content of the script.
Ali Jafaar of Variety reported in August 2007 that:
Pic was set to shoot in Dubai toward the end of the year.

"After receiving approval, it was later rejected as Dubai does not want to do any scripts that are of a political nature," says Tim Smythe, CEO ofFilmworks, the Dubai-based shingle that was repping the production for Warners in the region.

Mideast-set portions of the film will likely all be shot in Morocco now.

The decision has already meant that two other Dubai-set shoots, a big-budget studio pic as well as a smaller budget East European feature, have subsequently pulled out of filming there.

Variety understands that the decision to nix the Scott project was based on U.A.E authorities' reluctance to have Dubai associated with film subjects related to terrorism, Al Qaeda and Islamic fundamentalism.
This meant Scott had to relocate the Jordan sequences to his old stomping ground of Morocco, where he shot Black Hawk Down and Kingdom of Heaven.
Because of his history in shooting in the country, Scott has become friends with King Mohamed VI of Morocco, which helped the production gain access to government buildings and locations such as the Ministry of Finance and Casablanca airport (which doubled as Jordanian locations in the film).
However, principal photography began on September 5th 2007 in the US at the Eastern Market, Washington, D.C. where part of the Capitol Hill neighbourhood was converted to resemble a wintry Amsterdam in order to film a car bombing.
Shooting also took place in Gaithersburg, Maryland to stand in for Northern Virginia, whilst the opening sequence (which is actually set in Manchester) was filmed in Baltimore.
After filming in the US was complete the production moved to Morocco where they shot for a nine-week period at CLA Studios in Ouarzazate.
This is a video from the set in Morocco of a chase sequence early in the film:
The film saw Scott reunite with previous collaborators, including production designer Arthur Max and cinematographer Alexander Witt, who made his got his first credit as director of photography on the film after a long career as second unit director and camera operator.
Witt and Scott have worked on five other films: Thelma & Louise, Black Hawk Down, Gladiator, Hannibal and American Gangster.
The film was shot in Super 35mm 2.40:1. As Witt told American Cinematographer:
"Ridley likes 'Scope and the way it frames things, and using spherical lenses gives you more flexibility on interiors and nights [than anamorphic lenses]," notes Witt. "It also makes it easier for the focus puller because there's a little more depth of field."
In the same interview Witt and gaffer Richard Cronn describe how Scott likes to shoot with three cameras:
As is typical on a Scott film, at least three cameras were always rolling; the operating team comprised Mark Schmidt, Daniele Massaccesi, Marco Sacerdoti and Witt.

"Actors like multiple cameras because they're always on-camera, so they're always in character and not wasting time off-camera," says Witt.

Gaffer Richard Cronn adds, "Sometimes multiple cameras can slow you down, but Ridley has been doing it so long he's really mastered it. There were times we actually wrapped early because of that!"
Filming eventually wrapped in December 2007.
POST PRODUCTION
Once a shoot is complete the director gathers all the footage he has shot and then embarks on the task of putting it together, which will include editing, special effects and music.
Although a contemporary and realistic thriller, the film has over 200 visual effects shots.
According to VFX World, three effects houses were involved: Sony Imageworks worked on about 50 effects shots, Invisible Effects accounted for another 150 and Imageworks India also was involved.
Apart from explosions one of the key visual aspects to the film is the predator drones the CIA use to keep track of action on the ground.
This promotional video shows how they incorporated this into the shoot:
Another of Scott's previous collaborators on this film was editor Pietro Scalia, who talks in this video about his approach to editing:
The score for the film was composed by Marc Streitenfeld at the Eastwood Scoring Stage at Warner Bros in Burbank. (For images of this session check out these photos at Scoring Session.)
So whilst Scott and his post-production team raced to get the film ready for an October release, the gears of the Warner Bros marketing department started slotting into place.
MARKETING
Marketing of a film can begin much earlier than you might expect – once the basic script is nailed down and the stars are in place, the team assigned to the campaign can get a rough idea of the direction they might go in.
On the face of it, Body of Lies had a lot of key selling points – big stars, famous director and action sequences.
But a large elephant in the room for everyone at Warner Bros was the failure of many movies related to the War on Terror that came out in 2007.
Lions For Lambs grossed a paltry $15 million in the US and that was with a cast including Tom Cruise, Robert Redford and Meryl Streep.
Rendition also had a very solid cast (Jake Gyllenhaal, Reese Witherspoon and Meryl Streep) but managed to do even worse with an abysmal US gross $9.7 million.
Even fine films like In the Valley of Elah ($6.7 million US gross) and The Kingdom ($47.4 million gross) all seemed to be unable to break the War-on-Terror voodoo. (The latter film did do better than the others but still had a relatively big budget to recoup.)
What was the reason for all this public aversion to films about Iraq and the war on terror? Maybe, these movies were too depressing for those who hated the Bush administration and too offensively unpatriotic for those that supported his attempts to invade countries and install new regimes.
Whatever the reason, the marketing department at Warner Bros must have been having sleepless nights becuase Body of Lies is explicitly about the war on terror – the plot involves the CIA trying to catch a terrorist leader and is set in countries like Iraq and Jordan, with sequences featuring bombs going off in England and Holland.
Their solution to this problem appears to have been two-fold:
Emphasise the stars
Concentrate on the action
The first US one-sheet poster is usually an important plank of the marketing strategy as it sets the tone for what will follow.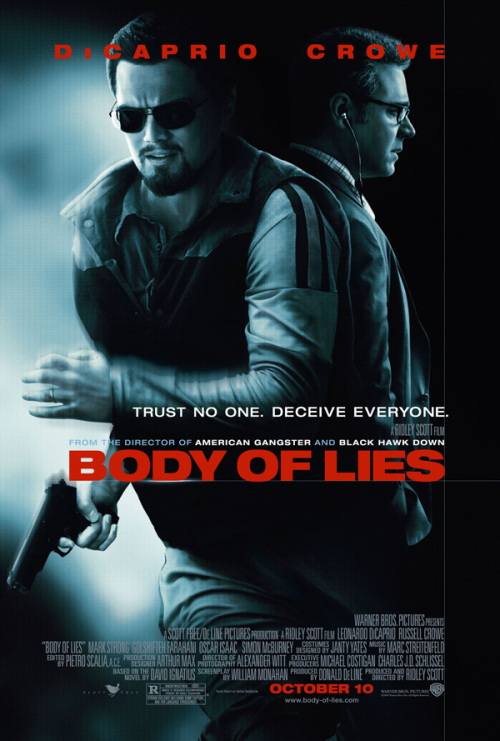 Not only does Crowe have top billing with DiCaprio (emphasising the star power) but the central image suggests this is a film about a relationship between two characters and indeed two approaches to the war on terror.
The colour scheme is also slick and distinctive, with the red of the title contrasting against the blacks, blues and greys.
DiCaprio's pose with the gun also hints that his character is going to kick some ass.
However, for a film that is largely set in the Middle East, it is noticeable that this isn't referenced in any way on the poster – it's almost as if its saying 'here are two big stars in an action film by Ridley Scott'.
Notice that they credit Scott as the director of American Gangster and Black Hawk Down, presumably to emphasise both his last hit and the last film he did about modern warfare.
Increasingly online advertising is important as more eyeballs migrate to the web. What's interesting about a lot of the banners for Body of Lies is how they keep with the imagery of the one-sheet poster.
Check out a variety of flash banners and online ads for the film here.
It is almost as if they wanted to keep hammering home that this was an action film with DiCaprio and Crowe and not some depressing drama about the contemporary Middle East.
A lot of the flash banners also seem to push the Unmanned Aerial Vehicle (or Predator) technology used by the CIA to keep track on their agents and terrorist suspects.
It is almost as if they are referencing Enemy of the State – funnily enough, a film directed by Ridley's bother Tony Scott – that dealt with the issue of surveillance by the CIA, albeit in a different context.
The trailers for mainstream films have now become increasingly important given how they are viewed all over the web, rather than just in cinemas.
There are usually teaser trailers, followed by more substantial ones lasting over two minutes and they can vary across territory.
Here is the final US trailer:
Again, the team cutting this appeared to be keen to ramp up the action elements (count the number of explosions) but also gave it a more accessible vibe with the rocky music bed.
The overall vibe seems to be saying, 'this is a smart thrill ride you can enjoy on a Saturday night' and not some kind of dark meditation on Middle East politics.
Added to all this, a lot of money would be spent on print ads, outdoor posters, TV spots in order to just raise awareness of the film.
Like political campaigns a large chunk of the ad budget is spent on TV spots in the final two weeks before the opening date.
But how did all this work when it opened at the US box office last month?
US RELEASE
The release in the US is always crucial as it sets the tone for how it will do around the world. A major studio desperately wants a hit, not just because they want a big domestic gross but so they can build on it by marketing the film as a 'US success' the rest of the world simply has to see.
After all, the 'Number 1 US film' sounds a lot more enticing than the 'Number 6 film' doesn't it?
When the final print of a film is ready the studio then makes thousands of prints which are then shipped to cinemas all across the nation.
On Friday 10th October Body of Lies opened on 2,710 screens across the US. But it isn't just a case of sending them out and hoping for the best.
The big studios all use a research firm called NRG, which conducts extensive research into how a film is going to do.
It doesn't just give the studios valauble data – it also helps studios co-ordinate their openings so that similar films don't go head-to-head and cannibalise one another's potential box office.
For example, an animated family film like Kung Fu Panda is never going to open on the same weekend as Wall-E because they are essentially appealing to the same type of audience.
How do NRG get this data? Like political polling before an election they conduct phone polls amongst a sample of likely moviegoers and ask them specific questions based on these lines:
Awareness: How much do they know about a specific movie opening soon? If they have heard of 'Body of Lies' or 'the new Leonardo DiCaprio movie', then the ads, posters and trailers have paid off. If not then there is clearly a problem with the marketing.
Will you go and see it?: Then the key question is "Are you going to see Body of Lies?". Then it is what is the likelihood of seeing it, if you are just thinking about it. The pollster will also take into account the age and gender of the respondents, which brings us on to…
Quadrants: The NRG analysts then break down the polling data from these 'tracking polls' into four distinct groups, or "quadrants":

1) Men under 25
2) Men over 25
3) Women under 25
4) Women over 25.
Nearly every studio movie is looking to appeal to these groups or – even better – a combination of them.
From these results, NRG will then project how well an upcoming film is 'tracking' and how it is likely to fare against other movies out that week.
According to various industry sources, tracking for Body of Lies was worse than Warner Bros was expecting, which probably meant the 'war on terror' theme was a turn off.
Even though the ads skirted around it, given the nature of the story it was almost impossible to hide.
Or – as was indeed the case – there were other films people wanted to see more.
Its main rivals that week were:
The Express (Universal): A period sports film directed by Gary Fleder that opened on 2,808 screens
Quarantine (Sony / Screen Gems): A horror film opening on 2,461 screens
City of Ember (Fox): A family fantasy opening on 2,022
Plus, there was also the other films already out at the box office, which included: Beverly Hills Chihuahua, Eagle Eye, Nick & Norah's Infinite Playlist, Nights in Rodanthe, Appaloosa and The Duchess.
Another factor we should work in here is reviews. For nearly every release, the studios – and sometimes the specialist PR firms they hire – put on screenings for critics.
These can be held a couple of months in advance (if they are confident of building up good word of mouth) or much closer to the release date if they are concerned that negative reviews and bad buzz might harm the opening weekend.
Critical reaction on the film was mixed – it scored 57 on Metacritic and 50% on Rotten Tomatoes.
But given the marketing and talent behind the film, Warner Bros could have expected a much more respectable opening.
Over the course of the weekend execs would have monitored how the film did with updates on Friday, Saturday and Sunday.
However, when the box office numbers came through the top 10 films were:
1. Beverly Hills Chihuahua (Disney) — $17.5 million ($52.5 million total)
2. NEW Quarantine (Sony) — $14.2 million ($14.2 million total)
3. NEW Body of Lies (Warner Bros.) — $12.8 million ($12.8 million total)
4. Eagle Eye (DreamWorks/Paramount) — $11.01 million ($70.4 million total)
5. Nick & Norah's Infinite Playlist (Sony) — $6.5 million ($20.7 million total)
6. NEW The Express (Universal) — $4.6 million ($4.6 million total)
7. Nights in Rodanthe (Warner Bros.) — $4.5 million ($32.4 million total)
8. Appaloosa (Warner Bros.) — $3.3 million ($10.9 million total)
9. The Duchess (Paramount Vantage) — $3.32 million ($5.6 million total)
10. NEW Fireproof (IDP Films/Samuel Goldwyn) — $3.1 million, ($16.9 million total)
Disney's Beverly Hills Chihuahua topped the box office for the 2nd week in a row by beating all four opening movies, mainly down to the fact that talking dogs appear to be popular with all four quadrants.
In 2nd place was the low-budget horror Quarantine which grossed an impressive $14.2 million over the weekend which showing again that the popularity of horror films has yet to wane.
But the big news was that Body of Lies could only manage 3rd place, which was a crushing disappointment for Warner Bros given how much they had spent on it and the high profile nature of the production.
According to some sources the studio was expecting an opening of $20M rather than the $13.1 million it ended up grossing.
Given that the marketing costs could have been about $20 million (maybe more), it was a bitter pill for everyone concerned.
Obviously it has the chance to make some serious money in foreign and ancillary markets (DVD, cable and TV) but without the 'lift off' from topping the US box office it is harder to make a decent profit.
UK RELEASE
All of this brings us to the UK release which is this Friday.
As in the US, money is spent on marketing the film, holding a premiere (which was a couple of weeks ago), a press junket (where different media outlets interview the talent) and screenings for folks like me.
The press screenings I go to are held in London – although there are also regional press screenings too – and in this case it was held in a West End cinema.
As in the US they can stagger these screenings. Often long lead press (e.g. monthly magazines like Empire and Sight and Sound) get a first look at the film and then there are follow up ones for TV, radio and online outlets.
I was much more impressed with the film than I was expecting, given the mixed critical reaction and negative buzz after the disappointing US opening.
It passes one of my key informal tests for watching a film which is 'how many times did you look at your watch?'
If you are constantly checking the time then the film isn't engaging you and is therefore not working. But Bodyof Lies had me absorbed for much of its 128-minute running time.
As you might expect for a Ridley Scott film the technical aspects are first rate and it explores some interestingly grey zones for a major Hollywood production.
The two leads are fine and Mark Strong is particularly good in the key supporting role.
There are some nagging flaws such as the addition of a token love interest and the climax leaves a lot to be desired when you actually think about it afterwards.
But that said, it is an unusually entertaining mix of action film and drama, which is not as easy as some people might think.
The highbrow British critics will almost certainly give it mixed reviews and I can envisage some itching to complain about the 'gung-ho' nature of the action, the political aspects of the film and maybe even some sneery gags about DiCaprio's facial hair.
(UPDATE 20/11/08: Xan Brooks of The Guardian is the first critic to make a snide observation about DiCaprio's facial hair. Not quite as original as his colleague David Cox, who recently fantasised about torturing Irish prisoners, but predictable nonetheless.)
But how will it do at the box office? I think a large part of it depends on how much Quantum of Solace has left in its box office tank.
The Bond film has dominated UK cinemas over the last 3 weeks and has already broken records. Last week it earned £5.1 million to top the box office, whilst the number two film – Max Payne – only just scraped past the £1 million mark.
However, given that word of mouth on 007's latest outing wasn't great (from my experience talking to people at least) there could be an appetite for a different type of action film.
The new films out this Friday don't exactly offer fierce competition either:
None of these are box office heavy hitters (although some are excellent) and the awareness of Body of Lies – combined with a more receptive climate over here to war on terror films – means that it stands a good chance of getting into the top two, maybe even topping it.
But the downside is that although awareness is there, is the desire to actually go and see it that strong?
Cinema advertisers Pearl and Dean estimate that it will gross around £10 million in total, with 32% of the audience coming from the 15-24 age group, 31% from 15-34, 11% from 35-44 and 25% from the 45+ group.
They also think that the audience will be 62% males against 38% female.
I'll update this post over the next week, with links to reviews and box office date to see how it does.
Are you planning on seeing it this weekend?
If you do go and see it or have any questions or thoughts about its release then leave a comment below.
> Body of Lies at the IMDb
> Reviews of the film at Metacritic
> Find local show times at Google Movies