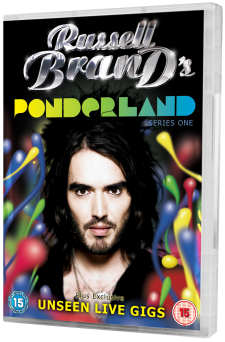 We have 1 copy of Russell Brand's Ponderland new DVD to give away.
In it Brand tackles random topics including: nostalgia, childhood, science, sport, love and holidays in his usual colourful way.
The DVD contains nearly an hour of unseen live stand up recorded at pre-Ponderland warm up gigs.
Also, Russell wants his fans to come forward and prove to him that they can be as funny or maybe even funnier than him.
All they have to do is visit www.russellbrandsponderlanddvd.co.uk, watch the clips and then make their own re-enactment of the video and then upload their video.
To stand a chance of winning, just answer the following question:
Which football team does Russell Brand support?
Send your answers to: competition@filmdetail.com
The competition is open for two weeks and make sure to include your address and contact details. 
Russell Brand's Ponderland is released today on DVD by Universal Pictures UK