Today is the final day of this year's London Film Festival and earlier this morning I saw Slumdog Millionaire, which is tonight's closing film.
Directed by Danny Boyle, it is the story of a streetkid from Mumbai who goes on the Hindi version of Who Wants to Be a Millionaire?
I spoke to Danny last year and he told me a bit about the story, which you can listen to here:
[audio:Danny_Boyle_on_Slumdog_Millionaire_back_in_April_2007.mp3]
Adapted by Simon Beaufoy (The Full Monty) from the novel Q and A by Vikas Swarup, it recently received a lot of buzz and critical acclaim at the Telluride and Toronto film festivals.
What's interesting is that the narrative plays a little like The Usual Suspects, as we learn how the central character Jamal (Dev Patel) came to be on the game show.  
It then flashes back to periods of his life growing up as a kid from the slums (or 'slumdog' as some less than charitable characters in the film put it) and his desire to find the true love of his life (Frieda Pinto).
Boyle and his cinematographer Anthony Dod Mantle don't shy away from the poverty of the slums in the film and some might be a bit taken aback by some of the darker scenes (one early sequence had the woman next to me squirming), but at the same time there is a tremendous energy and humanity to the story.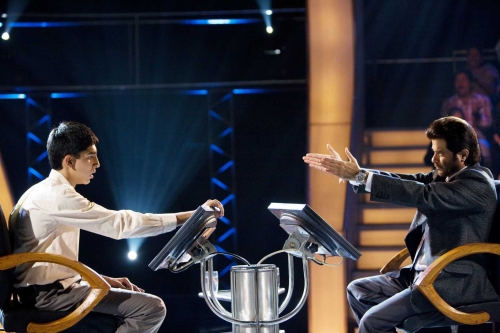 India of the last 20 years is portrayed with a harsh sense of realism but what's nice is that the characters and their story counterbalance this with an emotional warmth that is not only very affecting but mercifully free of easy sentiment.
Whilst the flashback structure takes a little while to really click, once the film gets going it really pays dividends, especially as it builds towards a gripping climax.
Another clever touch is the realistic portrayal of the Who Wants To Be A Millionaire show, complete with the right music and graphics which are expertly woven into the film and play a key part in how the story unfolds.
The cheesy tension of the TV show somehow has a new life here, with added meaning on the tense pauses and multiple choice questions.      
It is one of those films that is a little tricky to write about as I think audiences will enjoy it more if they go in to it not knowing too much. 
But this could be a genuine hit amongst a wide cross section of people – it cleverly mixes serious social commentary with a classical tale of lost love and the warm ripple of applause I heard at the end (rare for a press screening) indicates that it will have excellent  word of mouth.
It will be interesting to see how it does in India as it stars two big Bollywood stars (Anil Kapoor and Irrfan Khan) in key roles and may do some serious business over there. 
Credit must also to Tessa Ross at Film Four for acquiring the rights and getting Boyle and Beaufoy on board as the non-UK setting and story appears to have given both of them a creative shot in the arm.
I remember seeing Juno last year at the London Film Festival and thinking it would do very well. After showing at Telluride and being released by Fox Searchlight (perhaps the savviest studio at working the awards season) it went on to be a huge success.
Similarly, Slumdog Millionaire also premiered to rave reviews at Telluride before being acquired by Fox Searchlight – they'll release it in the US in a couple of weeks whilst Pathe will be distributing it in the UK. 
It might not do the same kind of business as Juno but this looks set for similar buzz, which is richly deserved as it is one of the most uplifting films to come out this year.
Slumdog Millionaire opens in the US on November 14th and in the UK on Friday 23rd January 2008
> Official site for the London Film Festival
> Official US site for Slumdog Millionaire at Fox Searchlight
> /Film with more photos from the film
> Listen to our full interview with Danny Boyle from April 2007 about Sunshine