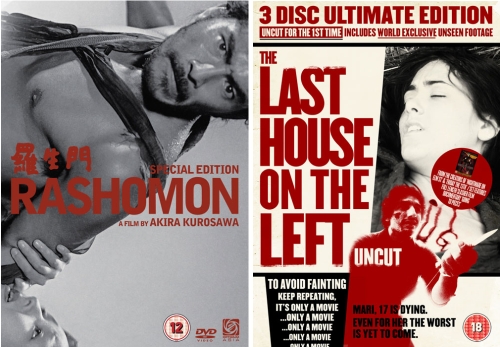 DVD PICKS
Rashomon – Special Edition (Optimum): Akira Kurosawa's classic 1950 film about the rape of a woman and the apparent murder of her husband seen through the widely differing accounts of four witnesses. They include: the bandit Tajōmaru (Toshirō Mifune), the murdered samurai (Masayuki Mori), his wife (Machiko Kyō), and the nameless woodcutter (Takashi Shimura). The film was massively influential on Western cinema and still stands up very well and explores the nature of seeing and believing in a way that few films have matched since. 
The extras on this disc are much better than the BFI release from 2001 and they include:
A 67-minute documentary called 'A Testimony for an Image: Rashomon', which interviews many of the original crew members. The key surviving player is screenwriter Shinobu Hashimoto, although it is interesting to hear stories from the crew members about the conditions in which it was made.
A six-minute introduction from director John Boorman and the original theatrical trailer. 
Although the transfer isn't massively improved from the 2001 BFI version, this is still a classic film worth owning from one of the most important directors in the history of cinema. 
The Last House on the Left (Metrodome): Wes Craven's infamous 1972 horror film is finally released uncut and uncensored on UK DVD for the first time in a 3-disc 'ultimate edition'. The story is a brutal tale of revenge that explores what happens when a group of teenage girls hook up with a gang of drug-addled thugs. It has a long and interesting history of being censored in the UK and because of that this DVD package has a bunch of extras that are spread over the 3 discs:
> Disc 1
Feature commentary by writer/director Wes Craven and producer Sean S.Cunningham
A 2nd feature commentary by stars David Hess, Marc Sheffler and Fred Lincoln
'Celluloid Crime Of The Century': A 40 minute making of… documentary
'Scoring Last House…': A featurette with composer and actor David Hess 
'Krug Conquers England': Featurette charting the theatrical tour of the first ever UNCUT screening of the film in the UK
20 mins of outtakes and dailies
US theatrical trailer
TV spots
Radio spots
> Disc 2
'Krug & Company': A rare and complete alternate cut of the film
An exclusive interview with Carl Daft of Exploited Films, who took the BBFC to courts over the film's banned status
Rare and world exclusive never-seen-before footage that was only recently discovered.
> Disc 3
'Going To Pieces: The Rise & Fall Of The Slasher Film': Feature length documentary on the 'slasher' film phenomenon that followed "Last House…"
Filmmakers' commentary
Deleted scenes
Horror film quiz
Although the film isn't the horror classic it's reputation might suggest, this DVD package is still worth getting for horror fans or those just curious about why it was (wrongly) banned for so long.
[ad]
ALSO OUT
Adulthood (Pathé): From director, writer and actor Noel Clarke, the sequel to Kidulthood (which Clarke wrote) is set against the backdrop of contemporary London.
Babylon (Icon): Directed by Franco Rosso and starring Aswad front man Brinsley Forde, Karl Howman and Trevor Laird, this is a mix of music and social commentary to recount the everyday experiences of a small group of working class black youths living in South London in the early 1980s.
Big Love – Season 1 (HBO): Bill Paxton plays as a practicing polygamist who lives in Salt Lake City with his three wives and seven children. An businessman who runs a growing chain of hardware stores, Bill faces the challenge of meeting the emotional, romantic and financial needs of his wives: Barb (Jeanne Tripplehorn), Nicki (Chloe Sevigny) and Margene (Ginnifer Goodwin) while dealing with their kids, three houses, bills and the opening of his newest hardware store. 12 episodes are spread across 5 discs with extras that include commentary on two episodes and a short – Big Love: A Balancing Act on Ice.
Boston Legal – Season 4 (Fox): James Spader, William Shatner and Candice Bergen are joined by John Laroquette in the fourth season of David E. Kelley's law comedy drama series. The 20 episode fourth season is spread across five-discs. There are no announced extras. 
Death Note 2: The Last Name (4Digital Asia): Picking up immediately where the first 'Death Note' movie left off, the sequel sees the deadly psychological duel between Light and L enter a thrilling new phase. Released as a two-disc limited edition release that includes a 24-page 'Death Note 2′ book.
Hellsing Ultimate – Volume 1 (Manga): This retelling of the manga series created by Kouta Hiran is described as a much closer adaptation of the Hirano's original work. Originally announced as a two-disc set featuring the first two episodes of the OVA, Manga have since been forced to revise those plans and will now issue each OVA as a single-volume priced at £14.99 RRP.
Las Vegas – Season 5 (Universal Playback): Tom Selleck stars as recently installed Montecito Casino owner A.J. Cooper in season five of this drama series. Episodes are spread across five-discs but there are no subtitles or extras. 
Memories Of Underdevelopment (Mr. Bongo Films): Hailed as one of the most sophisticated films ever to come out of Cuba in the early days of Castro's revolution, this is regarded as Cuban director Tomas Gutierrez Alea's tour de force.
Naruto Unleashed – Series 4 Vol.2 (Manga): Adapted from the best-selling manga created by Masashi Kishimoto, the hit anime series following the adventures of a ninja boy in training continues uncut on DVD with the next 13 episodes (92 to 104) spread across three-discs.
Naruto Unleashed – Series 3: Complete (Manga): Priced at £39.99 RRP this six-disc set bundles together the two volumes released in April and May of this year (which comprised episodes 53 to 73)
Next Avengers: Heroes of Tomorrow (Lionsgate): A new adventure for a younger generation of Marvel heroes: orphans bound only by their parents' former alliance known as The Avengers. Fostered by billionaire bachelor Tony Stark (aka Iron Man), four teenagers with lineage to some of the most famous Marvel heroes of all time including Captain America, Black Widow, Thor, Black Panther, Wasp and Giant Man suddenly find themselves the earth's only hope in stopping a deadly foe. 
[ad]
Sarah Silverman: Jesus Is Magic (Warner): The US comedian Sarah Silverman entertains a Los Angeles audience with several sketches, taped outside the theatre, and they are woven into a stand-up performance.
Smallville – Season 7 (Warner): The adventures of a young Superman continue with Season 7 of this WB series.
Stewie Griffin – Best Bits Uncovered (Fox): One of two 2-disc sets which include Family Guy episodes focused around Stewie and Peter which also include a digital copy of the episodes and free ringtones for mobiles. It includes the episodes: Chitty Chitty Death Bang, The Tan Aquatic with Steve Zissou, Stewie Loves Lois and The Courtship of Stewie's Father. 
Superhero Movie (Momentum): This spoof from the creators of The Naked Gun and Scary Movie takes aim at comic book movies.
The Guard Post (Cine Asia): From Su-chang Kong, the director of R-Point, comes a similarly themed Korean film that is part murder-mystery part horror-story. Also known as GP506 the film follows an army platoon headed by a military investigator as they are dispatched overnight to re-establish contact with the platoon stationed at Guard Post 506.
The Incredible Hulk (Universal): Edward Norton stars as Bruce Banner in director Louis Leterrier's take on the Hulk. The film also stars Liv Tyler, Tim Roth and William Hurt
The Ruins (Paramount): Based on the novel by Scott Smith, this surprisingly entertaining horror follows a group of friends who become entangled in a brutal struggle for survival after visiting a remote archaeological dig in the Mexican jungle where they discover something deadly living among the ruins. 
The Tudors – Season 2 (Sony): In the second season of The Tudors, Henry (Jonathan Rhys Meyers) is finally free to marry Anne Boleyn (Natalie Dormer), however we soon find out why she is later called 'Anne of a Thousand Days' as the political and emotional turmoil of life at court find another victim.
The Ultimate Gangster Class A Selection (Universal): This 10-disc set brings together five gangster films to celebrate the 25th anniversary of Scarface. The titles are: American Gangster, Carlito's Way, Casino, Mean Streets and Scarface. The set includes a disc of exclusive Scarface related extras, a disc of exclusive American Gangster extras and an exclusive 32-page American Gangster booklet. 
Tokyo Zombie (Manga): Based on the manga by Yusaku Hanakuma, and written and directed by Sakichi Sato (writer of Takashi Miike's 'Ichi The Killer' and 'Gozu'), the horror-comedy Tokyo Zombie stars Tadanobu Asano and Miike regular Sho Aikawa as an unlikely pair of heroes hilariously pitted against an army of flesh eaters taking over Japan.
Zombie Strippers (Sony): Adult film star Jenna Jameson and horror legend Robert Englund star in this zombie adventure.
[ad]
If you have any questions about this week's DVD releases or any upcoming titles then just email me or leave a comment below.
> Buy Rashomon – Special Edition or The Last House on the Left on DVD at Amazon UK
> Browse more DVD Releases at Amazon UK and Play
> Check the latest DVD prices at DVD Price Check
> Take a look at the current UK cinema releases (W/C Friday 10th October)