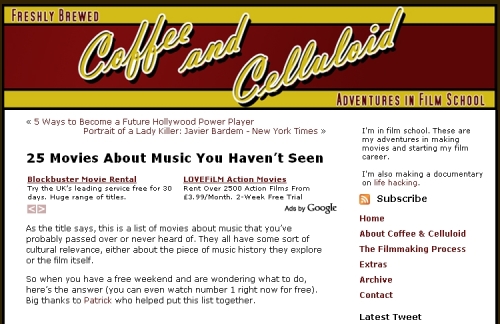 Coffee and Celluloid have compiled an interesting list of 25 Movies About Music You Haven't Seen. 
There are some interesting entries along with video clips but my pick is Superstar: The Karen Carpenter Story.
Directed by Todd Haynes in 1987, it is 43 minutes long and tells the story the life of pop vocalist Karen Carpenter. 
The interesting thing about it is that nearly all the characters are played by modified Barbie dolls.
Released in 1987 it was withdrawn from release in 1990 after Haynes lost a copyright lawsuit filed by Karen's brother and musical collaborator, Richard Carpenter.
If you haven't seen it – and there is a good chance of that as it has been banned since 1990 – then you should check out the version posted on Google Video here: