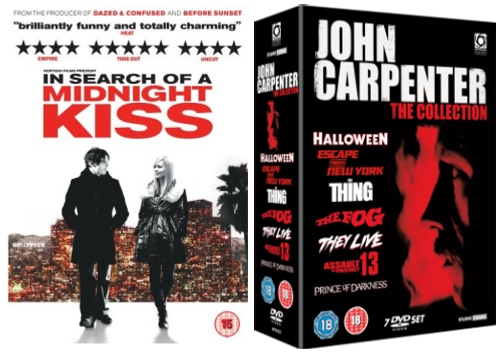 DVD PICKS
In Search of a Midnight Kiss (Contender): This low budget US indie film is proof that sometime low key gems from outside the studio system can find an audience. Directed by Alex Holdridge it follows a young 29-year old man (Scoot McNairy), recently moved to LA, who faces New Year's Eve alone. When his best friend (Brian McGuire) persuades him into posting a personal ad on Craigslist. It leads him to a young woman (Sara Simmonds) desperate to be with the 'right' man as the New Year kicks in and explores the connection between this unlikely couple. Since it premiered at the Tribeca Film Festival in 2007 this has become a real festival favourite around the world and even got a limited run at UK cinemas earlier this year. 
John Carpenter: The Collection (Optimum): A lavish box set of the films of John Carpenter which includes some of his very best films: Assault on Precinct 13 (1976), Halloween (1978), The Fog (1980), Escape from New York (1981), The Thing (1982), Prince of Darkness (1987) and  (1988). Although his career has tailed off quite badly in the last 20 years his best work is smart and splendidly entertaining. Although Halloween and The Thing are now famous horror films, this set gives new viewers a chance to check out gems like Assault on Precinct 13, a low budget cult classic and They Live, his 1988 film about the greed and deception of the Regan era which is now more relevant than ever. You can get it on Amazon UK for just £39.98, which even in these credit crunch times is a bargain.
[ad]
ALSO OUT
A Secret (Arrow): Writer-director Claude Miller's adaptation of Philippe Grimbert's novel, stars Cécile De France, Patrick Bruel, Ludivine Sagnier, Julie Depardieu and Mathieu Amalric in the story of a 15-year-old boy who unearths a family secret.
Assault on Precinct 13 – Special Edition (Optimum): This John Carpenter cult classic from 1976 about an LA police station under siege from gangs is being re-released by Optimum.  (See above for the Carpenter box set) 
Battlestar Galactica – Season 4 (Universal): While technically Season 4 of the re-imagined sci-fi series has been split into two parts for broadcast (with the second batch of episodes yet to air) the first part consisting of 10 episodes is being released here on UK DVD as Season 4.
Bullet Boy (Verve Pictures): A re-release for the London set drama from director Saul Dibb, starring Ashley Walters as a young man caught up in London criminal gang. (Note the appalling cover art for this title)
Buso Renkin – Volume 2 (Manga): Based on the popular manga series written and illustrated by Nobuhiro Watsuki, this action-adventure anime series mixes comedy, drama, fantasy and romance. 
Code 46 (Verve Pictures): Michael Winterbottom's overlooked sci-fi drama with Tim Robbins and Samantha Morton set in a future where travel is restricted and thoughts and emotions can be controlled by drugs. 
Criminal Justice (Acorn Media): Originally screened on BBC1 in July over five consecutive nights, this drama centres around Ben Coulter (Ben Whishaw) a normal 21 year old who, after one crazy night finds his life changed forever. This two-disc set includes all five hour-long episodes.
Days of Darkness (Revolver): The debut directorial feature from British ex-pat Jake Kennedy (Fangoria: Blood Drive II), is a gory hybrid of alien bodysnatcher movie and traditional zombie film. The plot involves a group of people – mysteriously unaffected by a killer extraterrestrial bug that has infected humanity – holed up in a remote compound under siege from a horde of undead human flesh-eaters intent on feeding on the last of the living.
Death Note – Volume 3 (Manga): Based on the best-selling manga by writer Tsugumi Ohba and illustrator Takeshi Obata (Hikaru no Go), the supernatural thriller Death Note tells the story of Light Yagami, a high school student who suddenly finds himself holding the power of life and death in his hands in the form of the Death Note.
Diff'rent Strokes – Season 1 (Sony): Diff'rent Strokes tells the story of the Drummonds, a wealthy Manhattan family headed by Mr. Drummond (Conrad Bain), who adopt their former maid's children following her death. When Willis (Todd Bridges) and Arnold (Gary Coleman) move in with their new family, a comedy of errors begins that would run for eight seasons. 24 episodes are spread across 3 discs with the behind the scenes features.
Entourage – Season 4 (HBO): Loosely based on the personal experiences of executive producer Mark Wahlberg as an up and coming movie star, the fourth season of Entourage opens with a behind-the-scenes documentary look at the filming of Vince's (Adrian Grenier) new film Medellin on location in Bogota, Colombia.
Felon (Sony): Val Kilmer, Stephen Dorff, Harold Perrineau, Jr. and Sam Shepard star in this prison drama, the story of a family man who is convicted of murder for killing an intruder who enters his home, threatening the lives of his wife and son.
Female Agents (Revolver): A WWII action-drama starring Sophie Marceau, Julie Depardieu, Marie Gillian and Deborah Francois. Directed by Jean-Paul Salome, the film is set in Spring 1944 where grieving Resistance sniper Louis Desfontaine (Marceau) is asked to recruit a team of five to rescue a British agent who has fallen into German hands.
Her Name is Sabine (ICA Films): Directed by Sandrine Bonnaire, this is a very personal portrait of Sandrine's younger sister Sabine. Combining film footage taken at Sabine's current care home as well as 25 years of home-movies, Sandrine charts the heartbreaking journey of her sister from a young independent woman with special needs to an adult in need of constant supervision.
[ad]
I Dream of Jeannie – Season 1 (Sony): Barbara Eden and Larry Hagman star in this 60s TV series about a US astronaut whose life is turned upside down when he crash lands on a remote island and unwittingly releases a beautiful and mischievous genie from a bottle. Returning home, it isn't long before Jeannie is granting her master's every wish, turning his life upside down. 30 episodes are spread over 4 discs.
Impact Point (Sony): A pro beach volleyball star encounters a psychotic stalker in this psychological thriller starring Brian Austin Green and former Sports Illustrated swimsuit model Melissa Keller.
King Lear (Metrodome): Recorded in High Definition at Pinewood Studios, the Royal Shakespeare Company's King Lear stars Ian McKellen and is directed by Trevor Nunn and Chris Hunt. The tragedy is about a headstrong ageing king who decides to divide his kingdom amongst his three daughters, depending on which declares their love the strongest. Cordelia (Romola Garai) is the only daughter to reply truthfully yet Lear disowns her, and so follows one of the most compelling stories of greed, betrayal and blindness to one's self ever committed to the stage. 
Moonlighting – Season 1 & 2 (Sony): First two seasons of the hit 80s series which combined drama, comedy and wit with a huge amount of sexual tension, starring Cybill Shepherd and Bruce Willis as private detectives who take on quirky cases. 
Reeker 2 (Metrodome): In this horror sequel, a sheriff and his son chase casino robbers, only to find the all of them are being chased by something else.
Spooks – Season 6 (Contender): In its sixth season spy-drama Spooks takes on a new format as it explores one storyline over the course of its 10 episode run.
Takeshi Kitano: Collection (Second Sight): One of Japan's most well known and all encompassing entertainment personalities, Takeshi Kitano has forged a name for himself as one of his country's most beloved and internationally renowned directors. This six disc box set comprises of the legendary actor/director's first six films; Violent Cop, Boiling Point, Sonatine, Getting Any?with A Scene At The Sea and Kids Return making their UK DVD debut.
The Entrance (Entertainment): Directed by Damon Vignale, this is a 'supernatural and psychological' chiller 'inspired' by true events. 
The Go Master (ICA Films): Tian Zhuanzhuang's The Go Master is a biopic of Wu Quingyuan, considered by many to be the greatest player ever of the table game Go. Developed in ancient China but finding a new home in post-Meiji Japan, Go's adherents treated its rules and regulations in a fashion far stricter and more disciplined than that of its Chinese roots.
The Passage (Entertainment): Stephen Dorff stars in this horror from first-time director Mark Heller which is shot entirely on location in Morocco.
The Vanguard (Lionsgate): The Vanguard tells a gruesome, bloody and merciless story where the world is in utter chaos and the future of mankind hangs in the balance. 
Timber Falls (Scanbox): Directed by Tony Giglio (Chaos) and starring Josh Randall, Brianna Brown and Beth Broderick, Timber Falls is a tale of hikers in peril.
Two And A Half Men – Series 4 (Warner): Charlie Sheen stars as an unconventional family man in this hit sitcom about two brothers and a son, as well as the crazy and charismatic women who surround them.
We Dreamed America (Drakes Avenue Pictures): This documentary about the Americana music scene in the UK examines the relationship and ongoing exchange between British and American roots of music. Director Alex Walker looks at the fascination with the most American of genres.
Zombies! Zombies! Zombies! – Zombies vs Strippers (Revolver): Strippers – Dakota (FHM model Jessica Barton), Dallas (Former Mrs. Oahu Lyanna Tumaneng) and Harley (Hollie Winnard from America's Beauty and the Geek – go up against Zombies in this horror film. 
[ad]
If you have any questions about this week's DVD releases or any upcoming titles then just email me or leave a comment below.
> Buy In Search of a Midnight Kiss or John Carpenter: The Collection on DVD at Amazon UK
> Browse more DVD Releases at Amazon UK and Play
> Check the latest DVD prices at DVD Price Check
> Take a look at the current UK cinema releases (W/C Friday 3rd October)