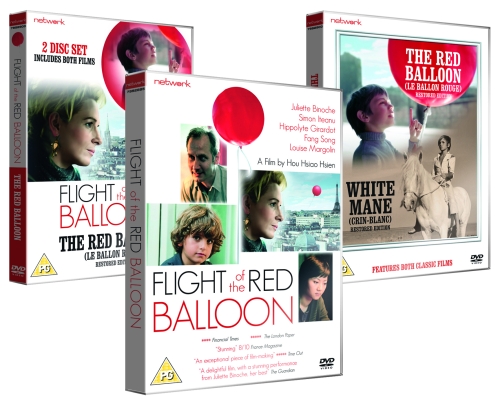 We have 5 copies of the critically acclaimed The Flight of the Red Balloon give away this week courtesy of Network.
Directed by Hsiao-hsien Hou (Café Lumiere, City of Sadness), it is about a mysterious red balloon that affectionately follows a seven-year-old boy (Simon Iteanu) around Paris whilst his mother Suzanne (Juliette Binoche) is preparing to put on a puppet show.
Each DVD is a 2-disc editon that also contains the original classic film:
We also have 5 posters up for grabs for each winner, so to be in with a chance of winning just answer this simple question:
For which film did Juliette Binoche win an Oscar for Best Supporting Actress?
Leave your answers in the comments below or email them to competition@filmdetail.com (make sure to include your address and contact details)
The competition closes at 11pm next Thursday (25th September) and winners will be contacted soon after.
* UPDATE 19/09/08: I just found out that the DVD contains 2 films (The Flight of the Red Balloon and The Red Balloon) and not White Man as previously stated. Apologies for the mistake. *
Also, just a note to say that if you leave your answer in the comments then I'll keep your details private but still get back to you if you are one of the winners.
* UPDATE 26/09/08: The competition is now closed. Winners will be notified in due course. *
> The Flight of the Red Balloon at the IMDb
> Read reviews of the film at Metacritic