The Internet Movie Database, announced today that users can now watch over 6,000 full-length feature films and TV shows for free on their new video section.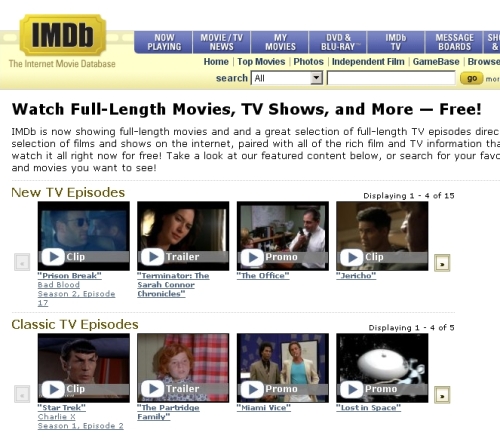 Col Needham, the founder and managing director of IMDb.com, Inc. has announced:
IMDb's mission has always been to be the world's most comprehensive, user-friendly destination for all movie, TV and celebrity-related information, products and services,"

"We're excited to offer our users a simple online experience to watch full-length movies and TV episodes for free. Our goal is to show our users every movie and TV show on the Internet for free on IMDb.com."
Whilst this is obviously a logical move for the site, I imagine rights issues will mean that UK viewers won't be able to watch a lot of the content available to US users.
Have you used it yet? Leave any comments below.
[Link via Digg]
> IMDb's new video section
> PaidContent with more details on the shows and films screening on the site