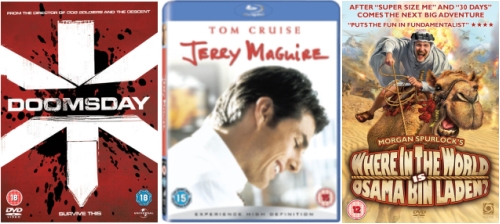 DVD PICKS
Doomsday (Universal): Although this post-apocalyptic action-thriller shamelessly rips off Mad Max 2 and Escape From New York, it remains something of a guilty pleasure. When a futuristic Britain comes under threat from a deadly virus, Rhona Mitra heads up a team of soldiers who have to venture into the forbidden wastelands of Scotland in order to find a cure. Director Neil Marshall brings an undeniable flair to the action sequences and although this isn't nearly as accomplished as his last film (The Descent) it is watchable enough if you don't take the hammy acting and clunky dialogue too seriously. [Also available on Blu-ray]
* Listen to our interview with Neil Marshall about The Descent *
Jerry Maguire (Sony): You might have forgotten that this 1996 film was one of the first to be released on the DVD format way back in the Spring of 1998. It has taken a little longer for it to reach Blu-ray, but if you have made the jump to Sony's HD format then you might well want this charming comedy-drama to be part of your new collection. Written and directed by Cameron Crowe, it is the charming tale of a sports agent named Jerry Maguire (Tom Cruise) who goes it alone with his assistant Dorothy (Renée Zellweger). He soon falls for her and also has to deal with a pushy footballer client played by Cuba Gooding, Jr. (who won the Oscar for Best Supporting Actor). Along with Almost Famous and Say Anything, it remains one of Crowe's best films.
Where in the World is Osama Bin Laden? (Optimum): Morgan Spurlock came to fame with Super Size Me, the hit 2004 documentary about fast food and has followed it up with this exploration of where the world's most wanted terrorist is. Although not as groundbreaking or successful as his previous film, there are some interesting sections including illuminating visits to Egypt, Saudi Arbaia, Israel and Afghanistan. Perhaps where the film suffers a little is in it's premise – surely a more interesting question (and film) would be: 'Why hasn't the US found Osama Bin Laden?'.
* Listen to our interview with Morgan Spurlock about Where in the World is Osama Bin Laden? *
ALSO OUT
Alive (Optimum): Based on the comic books by Tsutomu Takahashi, this is a live-action sci-fi horror directed by Ryuhei Kitamura.
Cashback (Universal): An 'offbeat comedy' directed by Sean Ellis about the unconventional life of an art student (Sean Biggerstaff) after he is jilted by his long term girlfriend (Michelle Ryan).
Erin Brockovich (Sony): A Blu-ray release for this Julia Roberts vehicle which dramatizes the story of Erin Brockovich's first fight against the American West Coast energy giant Pacific Gas and Electric Company. Not only did it scoop Roberts an Oscar for Best Actress, but it also cemented the return of Steven Soderbergh to the directing A-list after a few years in the indie wilderness.
Fool's Gold (Warner Bros):An 'adventure comedy' starring Matthew McConaughey and Kate Hudson as a just-divorced couple who bicker and banter whilst searching for treasure.[Also available on Blu-ray]
Get Smart's Bruce and Lloyd Out of Control (Warner Bros): A tie in DVD-only release with Masi Oka and Nate Torrence as Bruce and Lloyd, Maxwell Smart's techie friends from the recent Get Smart movie remake.
Illegal Tender (Universal): An action thriller about a Latino mother and son in 'a quest for honour and revenge', written and directed by Franc Reyes.
In Memory of my Father (Scanbox): Written by, directed by and starring Christopher Jaymes this examines  a narcissistic Hollywood family struggling to deal with the fallout caused by the death of its patriarch.
Lilith (TLA): An 'erotic horror' that follows Sister Katherine (Tina Krause) and her group of curvaceous female students on a college field trip exploring pagan customs.
Psych – Season 1 (Universal Playback): The complete first season of the US comedy series following the misadventures of fake psychic Shawn Spencer (James Roday) and his cynical friend Gus (Dule Hill).
The Muppet Show – Season 3 (Disney): Jim Henson's famous puppets return with the voices of Frank Oz and this series introduces audiences to Miss Piggy and also stars Gonzo, Fozzie Bear, Animal and a host of other characters.
The Oxford Murders (Contender): Based on the Argentine author Guillermo Martinez's 2003 novel, this crime drama is directed by Alex de la Iglesia and stars John Hurt and Elijah Wood as a professor of logic, and a graduate student who investigate a series of bizarre, mathematically-based murders in Oxford.
The Puffy Chair (Scanbox): Directed by Jay Duplass this comedy is about three young adults who find some of life's answers and several more questions during a cross-country road trip to deliver the film's eponymous piece of furniture.
Tweenies: Messy Time Magic (BBC): The Tweenies are back on DVD with their mix of music and mayhem in this new release from BBC Worldwide.
Two-Minute Warning (Nouveaux): This 1976 thriller about an a sniper killing people at a football stadium finally gets released on DVD in the UK. Directed by Larry Peerce and starring Charlton Heston, John Cassavetes, Martin Balsam, Beau Bridges, Jack Klugman, Gena Rowlands and David Janssen.
Vexille (Momentum): Directed by Fumihiko Sori and utilising the talents of the creative team behind the groundbreaking CG anime Appleseed, Vexille is a CG animated sci-fi feature that deals with the theme of genetic enhancement and modification.
If you have any questions about this week's DVD releases or any upcoming titles then just email me
(To buy any of the DVDs above just click on the title and you will be redirected to Amazon UK)
> Browse more DVD Releases at Amazon UK and Play
> Check the latest DVD prices at DVD Price Check
> Take a look at the current UK cinema releases (W/C Friday 29th August)