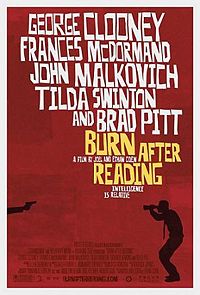 The Venice Film Festival kicked off last night with the new Coen Brothers film Burn After Reading.
It is a comedy about two Washington gym employees (Brad Pitt and Frances McDormand) who stumble across a disk of sensitive material written by a disaffected CIA analyst (John Malkovich).
The supporting cast includes George Clooney, Tilda Swinton, Richard Jenkins and J.K. Simmons.
After the Oscar winning triumph of No Country For Old Men, have the Coens created another modern classic?
Here is a summary of the critical reaction from the festival, which is fairly mixed:
Todd McCarthy of Variety is distinctly unimpressed:
After their triumphant dramatic success with "No Country for Old Men," the Coen brothers revert to sophomoric snarky mode…

…the short, snappy picture tries to mate sex farce with a satire of a paranoid political thriller, with arch and ungainly results.

A seriously talented cast has been asked to act like cartoon characters in this tale of desperation, mutual suspicion and vigorous musical beds, all in the name of laughs that only sporadically ensue.
Kirk Honeycutt of The Hollywood Reporter is more positive:
It takes awhile to adjust to the rhythms and subversive humor of "Burn" because this is really an anti-spy thriller in which nothing is at stake, no one acts with intelligence and everything ends badly.

As a follow-up to last year's multiple-Oscar winner "No Country for Old Men," Joel and Ethan Coen clearly are in a prankish mood, knocking out a minor piece of silliness with all the trappings of an A-list studio movie.

Those who relish this movie might treat it as the second coming of "The Big Lebowski"; those who don't might wonder at a story in which no character has a level head.
David Gritten of The Daily Telegraph is even more enthused:
The end result will probably not mean a return night out to the Academy Awards for anyone involved, yet Burn After Reading is a terrific entertainment: fast-paced, inventive and relentlessly amusing.

The Coens have taken a sledgehammmer to the notion, advanced in film after film, that espionage is a business pursued by grim-faced people blessed with total competence.
Andrew Pulver of The Guardian also admires the film with a couple of reservations:
Burn After Reading is a tightly wound, slickly plotted spy comedy that couldn't be in bigger contrast to the Coens' last film, the bloodsoaked, brooding No Country for Old Men.

Burn, in comparison, is bit of a bantamweight: fast moving, lots of attitude, and uncorking a killer punch when it can.

Burn After Reading may also go down as arguably the Coens' happiest engagement with the demands of the Hollywood A-list – but this bit of career development may also be contributing to a diminishing of their particular film-making strengths. Or perhaps they are simply evolving.
Richard Corliss of Time bravely admits to being baffled by the film:
The ultimate question, from this admirer of virtually all the brothers' work, from the early Blood Simple and Miller's Crossing to their previous Clooney collaborations O Brother, Where Art Thou? and Intolerable Cruelty, is a plaintive "What the heck kind of film is this?"

… The movie's glacial affectlessness, its remove from all these subpar schemers, left me cold and perplexed.

…Either the Coens failed, or I didn't figure out what they're attempting.

…Burn After Reading is a movie about stupidity that left me feeling stupid.
Wendy Ide of The Times liked the details but felt it needed more warmth:
The attention to detail is impeccable: the Coens can even raise a laugh with something as simple as a well-placed photograph of Vladimir Putin…

If the film does lack something, it's warmth. The affection you felt from the Coens for the misguided fools in Fargo or Raising Arizona is lacking here for everyone except Jenkins' hapless and hopelessly love sick gym manager.

And while the film carries the audience with its entertaining, if somewhat ludicrous, blend of high level espionage and ab-toning exercises, it would perhaps be more rewarding if we could like the characters as well as laugh at them.
Dave Calhoun of Time Out praises it as both goofy and insightful:
Unwittingly, the Coens have delivered the most convincing argument I've heard yet against 9/11 being a US government conspiracy – and there are a lot more laughs here than in your average neocon documentary.

All in all, it's a treat to see such a good cast messing around with comedy material that's both goofy and insightful.
Burn After Reading will have its North American premiere at the Toronto Film Festival on September 5th before opening in the US on September 12th and coming out here in the UK on October 17th.
> Burn After Reading at the IMDb
> Find out more about The Coen Brothers at Wikipedia
> Check out the trailer for Burn After Reading