Here is our weekly rundown of the UK cinema releases.

NATIONAL RELEASES
Hellboy II: The Golden Army (12A): The sequel to the 2004 film about a demonic superagent (Ron Perlman) is a splendidly entertaining affair with director Guillermo del Toro bringing his imagination and skills to a more mainstream movie. After the success of Pan's Labyrinth and his upcoming adaptation of The Hobbit, this could have strong appeal to a wide audience. In the US it had a good opening the week before The Dark Knight phenomenon took hold. Here in the UK, Universal will be glad that the Batman sequel has already been out for a month (although it is still Number 1) and even went early with this by releasing it on Wednesday. With younger audiences still on summer holiday, it should have the desired effect of bumping up the opening week's gross but it will be interesting to see how it fares against more family orientated competition. [Opens Nationwide]
Get Smart (12A): With Warner Bros executives still giddy from the huge success of The Dark Knight, one of their lesser summer tentpoles gets its UK release. It is a fairly middling adaptation of the 60s TV show of the same name, with Steve Carell as secret agent Maxwell Smart and Anne Hathaway as his partner, Agent 99. British audiences may not have the same awareness of the original show as their US counterparts, but Carell has become a big comedy star and the breezy nature of the plot might appeal to those put off by the more gothic appeal of Hellboy.  [Opens Nationwide]
College Road Trip (U): Disney's family comedy, which stars Martin Lawrence, Raven-Symoné and Donny Osmond, revolves around a family college road trip to different colleges in the US. It got a US release back in March grossing a middling $45 million and it is hard to see it doing major business over here with it's lack of star power and the general air of naffness that appears to surround it. But given that it's the summer holiday, suprises can happen. [Opens Nationwide]
Somers Town (12A): Given the success of This is England, the new film from Shane Meadows has garnered a fair amount of press and Optimum have given it a fairly big national release for a film of this scale. A low key study of unlikely friendship in an area of North London, it has undeniable charm – and some fine acting from Thomas Turgoose and Piotr Jagiello – but lacks the sheer weight and class of Meadow's last two movies. However, it's unusually short running time of 74 minutes could help cinemas do more showings and bump up the gross. [Opens in London at Cineworld Haymarket, Curzon Soho, Odeon Covent Gdn. & at cinemas nationwide]
IN SELECTED RELEASE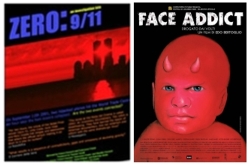 Zero: An Investigation Into 9/11 (12A) Mercury Media give a limited theatrical release to this documentary exploring the events of September 11th 2001. It is already available on DVD via the Internet. [Opens in London on Tuesday 26th at The Gate, Ritzy, Screen On The Green and in Scotland 25th August)
Face Addict: Blue Dolphin give a staggered arthouse release for this 2005 documentary about photographer Edo Bertoglio – the man responsible for immortalising the scene Andy Warhol and the group of of friends and  and artists that surrounded him, including the likes of Basquiat and Debbie Harry. [Opens at the ICA Cinema in London & selected ky cities from September)
If you have any questions about this week's cinema releases or any upcoming titles then just email me or leave a comment below.
> Get local showtimes via Google Movies (just enter your local postcode)
> Find out about films showing near you at MyFilms
> Check out the DVD releases for this week (W/C Monday 18th August)