Hollywood has long had an interesting relationship with technology from classic films like 2001: A Space Odyssey (1968) to nonsense like The Net (1995).
Since the rise of the PC over 15 years ago, computers haven't always always been portrayed accurately in films.
For example in real life when you download something on your computer, the screen looks something like this: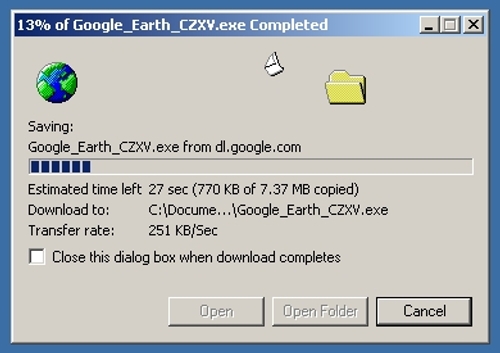 But in a movie it often looks more like this: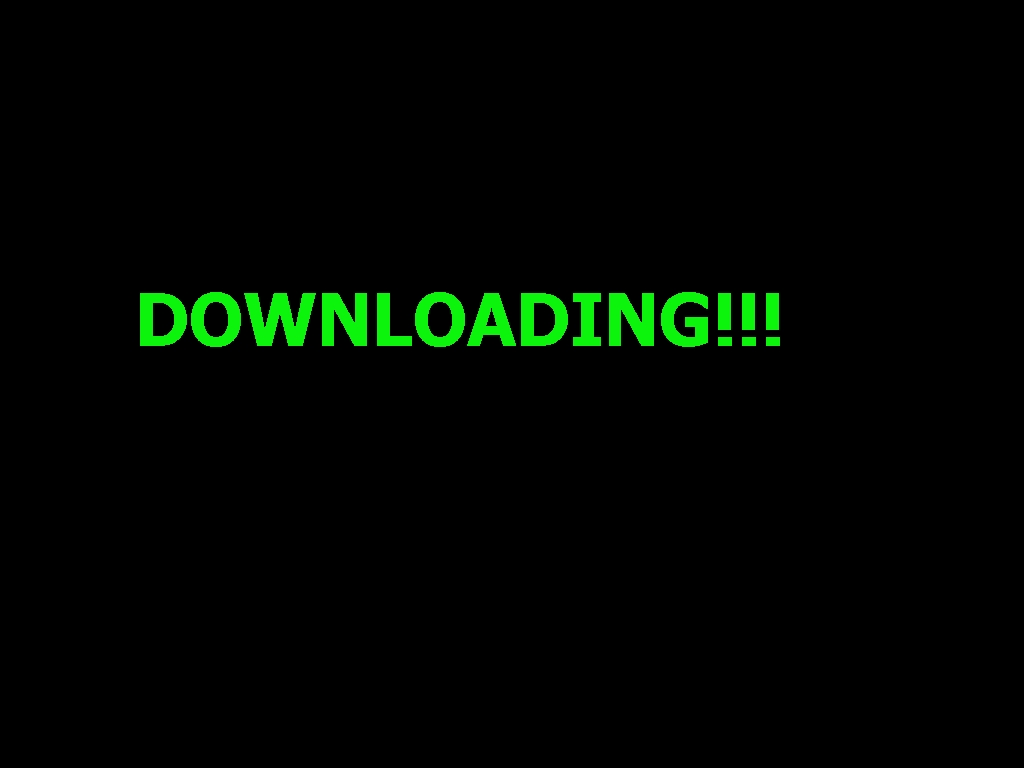 But how about this summer's crop of movies?
Here is a list of what we learned about technology on the big screen this summer:
1. TONY STARK IS BOTH A MAC AND PC GUY (IRON MAN)
If you are a billionaire industrialist trying to make a robotic suit that will turn you into a superhero, you still face the same dilemma as millions of computer users: do you use Mac or PC?
In order to become Iron Man, Tony Stark (Robert Downey Jnr) appeared to use both.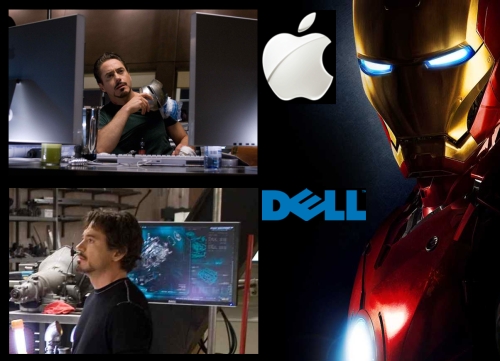 In this summer's first blockbuster, I caught a glimpse of a heavy duty Dell workstation and some Mac Pros – maybe he uses the Dells to crunch some stats and the Macs for the sleek design? Or maybe the two companies paid Marvel a ton of money to feature both.
2. ARCHAEOLOGISTS CAN SURVIVE NUCLEAR EXPLOSIONS BY HIDING IN A LEAD LINED FRIDGE (INDIANA JONES AND THE KINGDOM OF THE CRYSTAL SKULL)
One of the most startling scientific revelations from this summer's movie season was that Indiana Jones could survive a nuclear explosion by hiding …in a lead lined fridge.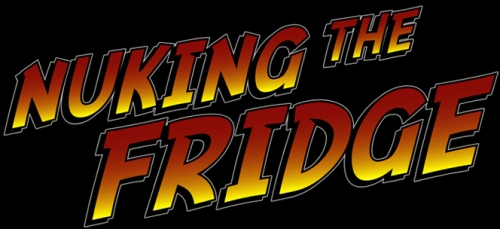 It even led to a term being coined: "Nuking the Fridge", which is supposed to be some kind of follow up to 'Jump the Shark'.
This video explains the terms:
One commentator suggested that:
The problem is that, even if he didn't get flattened, horribly burned or suffocated (kids, don't hide in refrigerators), Indy almost certainly would have gotten a lethal dose of radiation from the fallout.
Will the next Indy movie be called Indiana Jones and the Fallout from the Lead Lined Fridge?
3. WALL-E IS A PIRATE (WALL-E)

The cutest futuristic robot since Silent Running charmed audiences worldwide with his impressive devotion to cleaning up planet Earth and love of old musicals.
But where do the MPAA stand on his flagrant disregard of copyright law? Not only does he illegally record 'Hello Dolly!' but there is no compensation for the artists involved.
However, given that the film takes place hundreds of years into the future, I think we can safely assume the 20th Century Fox musical will by then be in the public domain. Unless News Corp and Fox owner Rupert Murdoch lives forever (which shouldn't be ruled out…)
4. CARRIE BRADSHAW CAN'T HANDLE THE iPHONE (SEX AND THE CITY)
If you were a fan of HBO's Sex and the City you will have noticed that Carrie Bradshaw wrote everything on her MacBook Pro.
However, in the movie version of the show she can't seem to handle the iPhone.
When she needs a phone at her wedding in order to get in touch with her husband-to-be (Mr. Big) she is dismayed at the iPhone's touch interface, saying 'I can't work this'.
Maybe some brushing up is needed for the next film?
5. BATMAN HAS THE NEW NOKIA 'iPHONE KILLER' (THE DARK KNIGHT)
In contrast to Carrie, Batman (Christian Bale) in The Dark Knight has a surer grasp on mobile phone technology.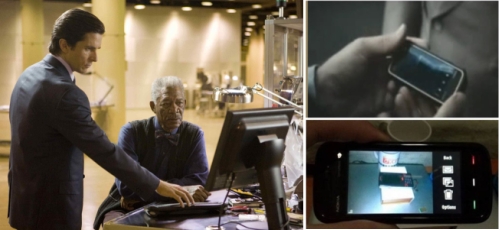 Not only does he have a brilliant CEO named Lucius Fox (Morgan Freeman) who supplies him with all the gadgets a night time vigilante needs, but he also has an intimate knowledge of Gotham's phone network.
However, in a move that will give Steve Jobs pause for thought, Bruce is introduced to the new Nokia 'iPhone killer' by Lucius on a trip to Hong Kong and it proves invaluable in extraditing a criminal.
Despite official denials from Nokia that the phone doesn't exist, it looks like it could be the prototype for the Nokia 5200 – which is nicknamed 'The Tube'.
Reports of a red version in a glass case, that lights up every time someone calls, were sketchy as this article went to press…
6. HELLBOY'S BOSS HATES YOUTUBE (HELLBOY II: THE GOLDEN ARMY)
When you are the demonic spawn of a Nazi experiment gone wrong – that now secretly works for the US government as secret agent – anonymity is tough. Especially when you are Hellboy, who is bright red with horns and a tail.
In the first Hellboy he just about covered his tracks but in this summer's sequel, Hellboy II: The Golden Army, he couldn't escape the attentions of citizen journalists in the Web 2.0 era, prompting his boss Tom Manning (Jeffrey Tambor) to snarl: "God, I HATE YouTube".
The same sentiments could apply to Viacom's lawyers.
7. ALIENS THINK GOOGLE AND YAHOO ARE SILLY NAMES (MEET DAVE)

Like some internet refuseniks (mainly older guys working in the newspaper industry) the aliens in the unfunny Eddie Murphy comedy Meet Dave are tickled pink that humans search and store information in places called Google and Yahoo.

Believe it or not, this was actually one of the funnier jokes in this dull Eddie Murphy vehicle which saw an alien spaceship (Eddie Murphy) land on Earth piloted by lots of little aliens led by a Captain (Eddie Murphy). Confused? Google it.
8. BRUCE BANNER USES AN OLD IRC CHAT PROGRAM (THE INCREDIBLE HULK)

When you are the victim of a radiation experiment that periodically turns you into a large green monster, what do you do when hiding out in Brazil from the clutches of the US government?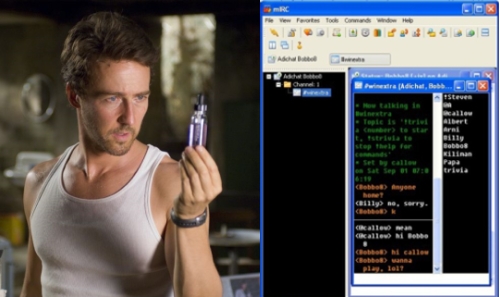 If you are Bruce Banner (Edward Norton) in The Incredible Hulk, you use a creaky old laptop and what appears to be an encrypted IRC program (remember those?) to communicate with a fellow scientist about a possible cure.
Would Skype not have been a better option, especially given its appropriately green icons?
9. MARIAH CAREY PREFERS MACS TO PCS (YOU DON'T MESS WITH THE ZOHAN)

Whilst Tony Stark seems happy to multitask on both, it seems Mariah Carey is a Mac devotee. In the Adam Sandler comedy You Don't Mess With The Zohan, Mariah appears as herself in a cameo and in one scene her assistants are asked what she prefers: Macs or PCs?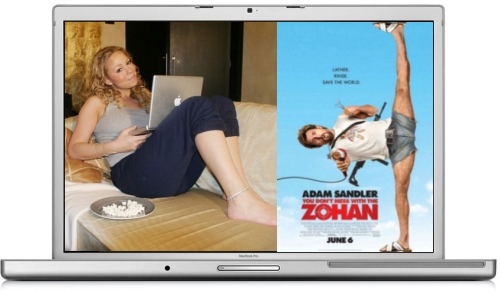 Given that the film was funded by Sony, I was fully expecting them to say 'PC' and that (like James Bond) she is a huge fan of the Sony Vaio laptop. But no, they look at one another – as if to say 'what a silly question!' – and eagerly report she loves Macs.
High fives all round at Cupertino.
10. TIVO DOES MORE THAN JUST TV (TROPIC THUNDER)

Many people find that that DVRs like the TiVo has changed their TV viewing habits, but in the new Ben Stiller comedy Tropic Thunder we find that it has more uses.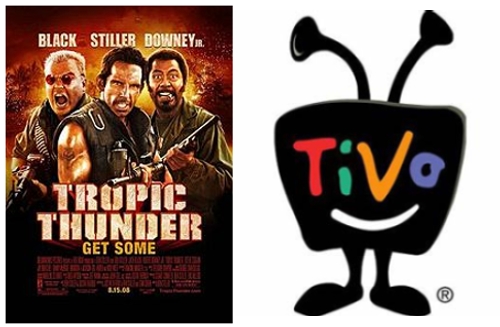 But given that the film hasn't opened yet I don't want to spoil why…
Can you think of any other memorable tech moments in the movies this summer?
> 2008 in film at Wikipedia
> The Inquirer's Top 10 Technology Films
> The uses of computers in movies at Annoyances.org