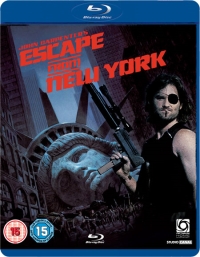 Writer-director John Carpenter's smart, dystopian thriller Escape From New York was re-released on regular DVD and Blu-ray this week.
Made in 1981 it imagines a futuristic New York where crime has spiralled out of control to the point where Manhattan has been turned into a maximum security prison.
When Air Force One crashes over the island, the prison governor (Lee Van Cleef) recruits a notorious criminal named "Snake" Plissken (Kurt Russell) to go in and rescue the leader of the free world.
The major snag is that he has less than 24 hours to complete his mission and must survive in a completely lawless and hostile environment.
Although the premise stems from anxieties about New York that now seem dated, the film holds up remarkably well with the visuals, acting and a pulsating electronic score all adding to the mix.
The extras on both releases include:
Return to Escape from New York

: A 23 minute featurette on the making of the film with interviews and insight from cast and crew.

John Carpenter Interview

: A new and exclusive 30 minute interview with the writer-director about the film.

Snakes Crime

: The deleted opening scene where Snake robs a federal bank.

Commentary

: John Carpenter and Kurt Russell, which is highly engaging and informative.
There are also three theatrical trailers including this one:
The Blu-ray version is presented in 1080P 2.35:1 Widescreen (VC1) with English 5.1 DTS-HD Master Audio.
> Buy it on regular DVD or Blu-ray from Amazon UK
> Escape from New York at the IMDb
> More information on the film at The Official John Carpenter site