NATIONAL RELEASES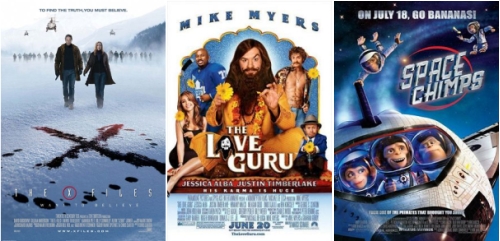 The X-Files: I Want to Believe (15): Although the last X-Files movie was 10 years ago and the TV show ended in 2002, agents Mulder (David Duchovny) and Scully (Gillian Anderson) are back, although no longer at the FBI. However, when a missing person's case baffles the bureau they – along with a mysterious priest (Billy Connolly) – are recruited to solve the mystery. It is hard to discuss a lot of specifics about the plot (which has been kept tightly under wraps) but this is a grittier than some might expect, eschewing the alien conspiracy plot that dominated the TV show. Although there may be fans curious to see it, a disappointing US opening combined with Batman dominating the box office doesn't bode well for Fox. (At multiplexes everywhere)
The Love Guru (12A): Mike Myers has had a tough time since the last Austin Powers movie with misfires like  The Cat in the Hat and the last Shrek movie (easily the worst of the three). His latest comedy is about a US/Indian guru helping out a Canadian hockey team on a losing streak. Sadly it doesn't work and although there are a couple of laughs here and there, the central character and over reliance on stupid humour only confirms the US critical reaction, which was mostly hostile. Paramount will be hoping it will offer an alternative to the darkness of Batman (and the X-Files) but I don't see this dumb comedy attracting many converts. (At multiplexes everywhere)
Space Chimps (U): A lighthearted animated film who's title gives you some idea of what to expect – when a NASA probe goes missing in space, a bunch of chimps are recruited to retrieve it. Given the poor critical and commercial response in the US, Entertainment will be hoping that family audiences who are put off by the violence in The Dark Knight – and have already seen WALL-E – might go and see this. (At multiplexes nationwide)
IN SELCECTED CINEMAS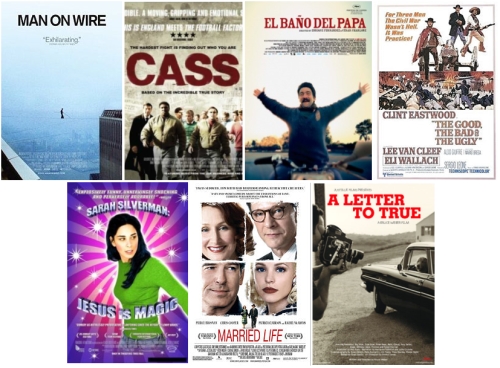 Man on Wire (15): The film of the week is this thrilling and fascinating documentary about Philippe Petit, the man who did a spectacular wire walk between the twin towers of the World Trade Center in 1974. Directed by James Marsh (who made Wisconsin Death Trip) it explores Petit's extensive preparations and the actual incredible act itself. With good word of mouth, critical acclaim and a decent smattering of publicity, Icon have every right to think that this could do very well in selected release. (Key cities and Curzon Soho in London)
* Listen to our interview with Philippe Petit about Man on Wire *
Cass (18): Another British film about football violence deals with Cass Pennant, who became a football hooligan who led West Ham's Inter City Firm in the 80s. It stars newcomer Nonso Anozie in the lead role and  director Jon S Baird has been touted as a filmmaker to watch. As with a film like The Football Factory, it may find a better audience on DVD but Optimum will be hoping it gets a good lift off in limited release. (London & Key Cities)
El Bano Del Papa (The Pope's Toilet) (15): A story about a poor Uruguayan family in 1988, who try to capitalise on the visit of the Pope to their their village by building a toilet. Some positive reviews and the fact that it was directed by Fernando Meirelles's regular cinematographer César Charlone alongside debutant Enrique Fernández, this could do well in limited art-house release.
The Good, The Bad And The Ugly (15): A welcome re-issue from Park Circus for Sergio Leone's classic 1966 spaghetti western. The third in the 'dollar trilogy' starring Clint Eastwood as the 'Man With No Name', a bounty hunter drawn into a search for hidden loot during the American Civil War. it also stars Lee Van Cleef and Eli Wallach. (BFI Southbank & Key Cities)
Sarah Silverman: Jesus Is Magic (15): A belated and limited release for this 2005 comedy film with Sarah Silverman from Warner Music Entertainment. Is this being re-released now dud to the success of that Matt Damon viral video? (Apollo West End & Scotland)
Married Life (PG): Verve Pictures release this adaptation of John Bingham's novel which despite it's impressive cast (Chris Cooper, Pierce Brosnan, Patricia Clarkson and Rachel McAdams) is only getting a smallish release. (Cineworld Shaftesbury Avenue in London & Key Cities from 8th August)
A Letter to True (PG): Metrodome re-release this 2004 documentary by photographer Bruce Weber about his and other people's dogs. (Curzon Soho in London)
If you have any questions about this week's cinema releases or any upcoming titles then just email me or leave a comment below.
> Get local showtimes via Google Movies
> Find out about films showing near you at MyFilms
> Check out the DVD releases for this week