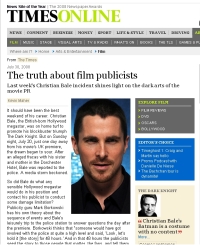 There is an interesting article on the world of film publicity by Kevin Maher in The Times today.
Using the recent high profile story of Christian Bale getting questioned by police the day after last week's UK premiere of The Dark Knight, it explores some of the basics of film PR mixed in with some facts from Mark Borkowski's latest book The Fame Formula.
It says:
Whether that's true or not, for years PRs – that mysterious and dark breed of fixers, stuntsters and arch media manipulators – have, for more than a century now, been as fundamental to the Tinseltown fantasy as the Hollywood sign itself.
No doubt film PRs have been important in maintaining the mystique and aura of the film business, but isn't describing them as a 'mysterious and dark breed' making them sound a little like followers of Lord Voldemort?
It goes on:
They are, according to Borkowski, in his new book The Fame Formula, the hidden gatekeepers of the Hollywood dream machine "who guard its formula, often to the death".
Can you name me one publicist in history who has literally guarded the the formula to the death? Or is this just hyperbole?
But here is the interesting bit:
As recounted in his detailed analysis of publicity through the ages, they are an invisible army of Machiavellian schemers who were ferociously protective of their clients.

Joan Crawford had an abortion when she became pregnant from an affair with Clark Gable.

Publicists also covered up the fact that the sexually rapacious Gable had apparently attended orgies with underage girls, organised by the English actor Lionel Atwill.

They hid Spencer Tracy's alcoholism and his alleged affair with Judy Garland when she was only 14.
The Crawford abortion story isn't such a biggie, although no doubt it would have caused a huge outcry at the time, but Gable attending orgies? It certainly makes you look at Gone With The Wind in a different light.
As for Tracy, although his alcoholism was fairly common knowledge, an affair with a 14 year old Garland is another matter entirely. Is this really true?
I know the fact that he's been dead since 1967 means that the Times legal department won't be pulling an all-nighter, but some more details on this allegation would be appreciated.
There is also an interesting stat from Charlotte Tudor – a VP of publicity at Walt Disney Studios Motion Pictures UK who says that an internal study found that:
"the estimated value of the Pirates of the Caribbean premiere, in print coverage alone, was £1.4 million – ie, if you bought the equivalent space in pure advertising it would cost that much money".
As for the Bale incident, why didn't the police question him after the premiere? Maybe it wasn't because a sinister cabal of film publicists brainwashed them, but because they may have had reason to believe that ruining the premiere was – to paraphrase The Joker – 'part of a plan'.
> Times article in full
> Mark Borkowski's blog
> Ryan Gilbey of The Guardian on an interesting episode when PR's 'invaded' the comments section of his blog