Today marks the 20th anniversary of the release of Die Hard – one of the greatest and most influential action films of the last 30 years.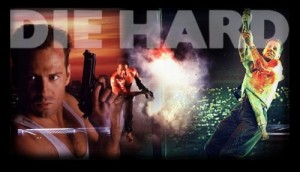 Although at the time Bruce Willis was seen as a TV star trying to break into movies (he'd already done the puerile Blind Date), I don't think anyone really expected this tale of a New York cop battling terrorists in an LA skyscraper to become such an enduring film.
Directed by John McTiernan, produced by Lawrence Gordon and Joel Silver and written by Steven E. de Souza, it was an exciting, witty and brilliantly executed thriller.
A major part of why the film works is that it balances so many different elements – the set pieces are often thrilling and funny, the good guys (like the FBI) are often jerks, whilst the villains are clever and witty.
Alan Rickman's performance as Hans Gruber – the leader of terrorists who hijack the skyscraper – is sensational. Can you think of a better nemesis in a mainstream movie than this smooth talking connoisseur of expensive suits?
It was made on a budget of $28 million and ended up grossing $83 million in the US, $138.7 million worldwide and was nominated at the Oscars for Best Sound Effects Editing, Best Film Editing, Best Sound and Best Visual Effects.
In the UK it was actually released in February 1989 (how those release windows have shortened!) and because it was an 18 certificate I didn't get around to seeing it until it's home video release in September 1989.
Although the sequels (despite their moments) never really lived up to the original, it influenced a generation of films such as:
But all of them paled in comparison to the original – a truly brilliant slice of action movie mayhem.
Relive the trailer here:
N.B. Thanks to John Massey at Martians Attacking Indianapolis for alerting me to this anniversary.
> Die Hard at the IMDb
> Reviews of Die Hard at Metacritic
> Buy the DVD at Amazon UK
> Check out the 1 minute edit of Die Hard