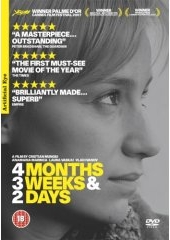 One of the most startling and accomplished films to come out in the last year was 4 Months, 3 Weeks and 2 Days.
This Romanian drama set in 1987 about a woman trying to get an illegal abortion scooped the Palme D'Or at Cannes last year and it was a surprising but worthy winner.
Although the subject matter might put some viewers off it is a truly remarkable film from director Cristian Mungiu that deserves a wider audience than just the arthouse circuit.
The achievement here is that it takes what appears to be a simple situation (the difficulty of abortion in Communist Romania) and manages to wring out the intense human emotions and drama that lie below.
From the young woman who is pregnant (Laura Vasiliu), her loyal friend (Anamaria Marinca) who helps her and the abortionist (Vlad Ivanov) who performs the operation, all are complicit in a highly dangerous situation.
What elevates it above many contemporary dramas is raw power of the narrative, the terrific lead performances from Marinca and Vasiliu and the clever cinematography from Oleg Mutu that utilises long takes that draws us deeper into the characters lives.
Although it is only his second film, director Mungiu has scored a major achievement and created a film that explores the terrible dilemas facing people in a particularly dark corner of Europe's recent past.
Artificial Eye have done an excellent job with the extras, most of them interesting and insightful.
They include:
Featurette – The Romanian Tour: A featurette that shows the filmmaker's taking a mobile projection unit on a 30 day tour across Romania in order to give people the chance to see the film in a country with only 50 cinemas.
Cristian Mungiu Interview: In two informative interviews, the director discusses the development of the script and why his desire to achieve a sense of authenticity in every scene. Some of the shots are discussed alongside alternative takes in specific scenes, the social and historical context, the locations and the reactions to the film.
Interview with Anamaria Marinca: The lead actress discusses her background, how she got the part and the input she had into the script.
Interview with Oleg Mutu: The cinematographer talks about the lighting and the effects he was trying to achieve in the film.
Alternative / Deleted Scenes: Two alternative endings are included, each of them going beyond where the final cut of the film. Another deleted scene with Gabita is included and they are shown in a good quality, letterbox format.
This is one of the best films of the year and an essential purchase for any discerning viewer.
Here is the trailer:
4 Months, 3 Weeks and 2 Days is out now on DVD from Artificial Eye
> Buy the DVD at Amazon
> 4 Months, 3 Weeks and 2 Days at the IMDb
> Official website
> Reviews of the film at Metacritic
> Screen shots from DVD Beaver