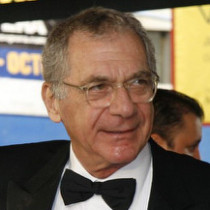 Director and actor Sydney Pollack has died in Los Angeles aged 73.
LOS ANGELES (AP) — Academy Award-winning director Sydney Pollack, a Hollywood mainstay who achieved commercial success and critical acclaim with the gender-bending comedy "Tootsie" and the period drama "Out of Africa," has died.

He was 73.

Pollack died of cancer Monday afternoon at his home in Pacific Palisades in Los Angeles, surrounded by family, said publicist Leslee Dart.

Pollack had been diagnosed with cancer about nine months ago, said Dart.

Pollack, who occasionally appeared on the screen himself, worked with and gained the respect of Hollywood's best actors in a long career that reached prominence in the 1970s and 1980s.

"Sydney made the world a little better, movies a little better and even dinner a little better. A tip of the hat to a class act," George Clooney said in a statement from his publicist.

"He'll be missed terribly," Clooney said.

Last fall, he played Marty Bach opposite Clooney in "Michael Clayton," a drama that examines a law firm's fixer. The film, which Pollack co-produced, received seven Oscar nominations, including for best picture and a best actor nod for Clooney. Tilda Swinton won the Oscar for supporting actress.
He will be best remembered for directing films such as They Shoot Horses, Don't They? (1969), Jeremiah Johnson (1972), Three Days of the Condor (1975), Absence of Malice (1981), Tootsie (1982) and Out of Africa (1985).
As an actor he appeared in titles such as Husbands and Wives (1992), Eyes Wide Shut (1999), Changing Lanes (2002) and the aforementioned Michael Clayton (2007).
His producing work helped numerous films get off the ground with involvement in The Fabulous Baker Boys (1989), Sense and Sensibility (1995), The Talented Mr. Ripley (1999), Iris (2001), The Quiet American (2002), Cold Mountain (2003) and Michael Clayton (2007).
His illness had come to public attention after he withdrew in August 2007 as the director of the HBO television movie Recount for unspecified health reasons.
UPDATE:
Here is Sydney talking to Charlie Rose in 2007 about his documentary Sketches of Frank Gehry:
Here he is talking to John Gallagher in the early 80s about Three Days of the Condor and Bobby Deerfield:
This is a clip from Michael Clayton where Sydney, playing the law firm's senior partner Marty Bach, tells Michael (George Clooney) how he feels about the case:
Michael Clayton – What If Arthur Was On To Something
> Original AP article
> Obiturary at the New York Times
> Sydney Pollack at the IMDb
> Sydney's 10 favourite films in a 2002 Sight and Sound poll
> Guardian interview from 2002