A couple of weeks ago Peter Jackson and Guillermo Del Toro asked fans to submit questions about the upcoming film version of The Hobbit which they would answer via a live webchat.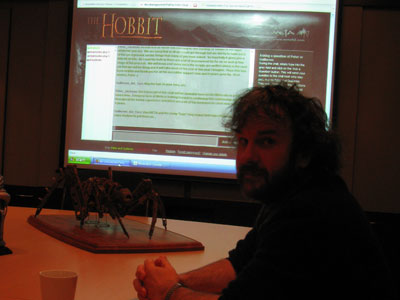 Nearly 6,000 fans asked almost 4,000 questions before the chat began and during the session they came in at nearly a question per second.
In the end Peter (in New Zealand) and Guillermo (in London) sifted through all the questions and answered about 60 of the most popular ones.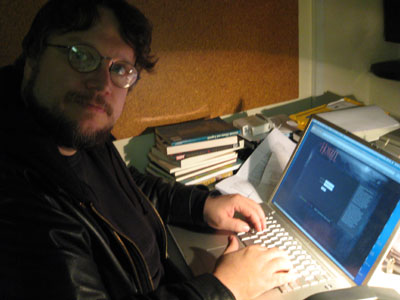 Here are some selected highlights:
WHICH OF THE ACTORS FROM LOTR WILL BE BACK TO REPRISE THEIR ROLES IN THE HOBBIT AND ITS COMPANION FILM?
Guillermo del Toro: Obviously, at this stage, the second film is still being figured out- so the actors that have been approached may or not have appeared in the HOBBIT as a literary work but still may appear in the second film as it "blends" into the Trilogy and expands.

Therefore what can be said is: Unequivocally, every single actor that originated a role in the Trilogy will be asked to participate and reprise it. If Health, availability or willigness become obstacles – and only in that case recasting would be considered.

Peter Jackson: Like Guillermo says, apart from extreme circumstances, we would never recast a character who appeared in the LOTR trilogy. You can read The Hobbit and pretty much see which characters play a part. The unknown facter is Film Two, which we are still developing. If we wished to write one of the LOTR characters into the narrative of Film Two, we would only do that with that actors blessing, and willingess to take part. Otherwise we'd take the writing in another direction.
WHEN DEL TORO HAS ACKNOWLEDGED HIS DISDAIN FOR HOBBITS AND "SWORD AND SANDALS" FANTASY, HOW CAN HE DO JUSTICE TO THE MOVIE? WHY CAN'T PETER DIRECT IT HIMSELF AFTER THE LOVELY BONES?
Guillermo del Toro: Okay- If by "Sword and Sandal" you mean "Sword and Sorcery" I stand by the general lines of my statement in 2006.

When that statement was made- at different times during PANS LABYRINTH's promotion, many a time I made the distinctive call to say that althought I had not read Tolkien outside THE HOBBIT I had been fascinated by the Trilogy films. A statement that I already had the chance to make in 2005 when PJ, Fran and I met about HALO.

So, no, generally I am NOT a "Sword and Sorcery" guy or a "Fantasy" guy- By the same token, I'm not a sci-fi guy but I would make a film based on Ellison in a second- or on Sturgeon or Bradbury or Matheson.

I'm not into Barbarians with swords but i would kill to tackle Fafhrd and Grey Mouse… and so on and so forth… I'm a believer but not a Dogmatic.

Allow me to put a final, finer point to our discussion. The aesthetics of HELLBOY II are completely Pop and color-saturated, much more comic book / modern than I would ever use in THE HOBBIT but- I spend two years creating a world of Fairies, Elves, Trolls, etc

Two Years. A career / creative decision that precedes any inkling of THE HOBBIT. I wrote the script years before I met with PJ or Fran. In other words I dedicated the last 6 years of my career (between PL and HBII) to create Fantastical world inhabited by Fairies, Fauns, Ogres, Trolls, Elves, etc

In that respect- I guess I am a Fantasy guy when the particular world appeals to me. Back in the Jurassic Period (1992 / 1993) when CRONOS won the Critic's Week at Cannes I was referred to as an "art house guy"- I followed that with a giant cockroach movie that proved successful enough to spawn two sequels and allow me to co-finance THE DEVILS BACKBONE which send me back to being an "art house guy".

Then I did BLADE II and people thought of me as an "Action guy"- PJ went through a similar mercurial career with HEAVENLY CREATURES, BAD TASTE, DEAD ALIVE, etc I squirm away from a tag and I hope I can avoid being just a "Fantasy guy" after PL, HBII and H…

I do the tales I love (regardless of what shelf Barnes & Noble classifies the book under) and I love the HOBBIT.

I love it enough to give it half a decade of my life and move half a world away to do it.
Peter Jackson: Having directed the LOTR Trilogy, I really felt that I put my heart and soul into dramatising this world and story, only a few years ago. The idea of going back in and essentially competing against my own movies, seemed to be an unsatsifying way to spend the next 5 years.

However, I love Tolkien and care deeply about the movies we made. I couldn't bear the idea of somebody else making them without our involvement. Being a writer and producer is the perfect way for me to work here.

Guillermo has the ultimate responsibility of directing, and for him it's easier to make these movies feel different, simply because he's not me, and he therefore has an original vision, with new ideas to offer.

Believe me, I thought long and hard about this, and what we're doing here will result in better movies, I promise you. And that's all that counts!
WILL WE NOTICE A SIGNIFICANT SHIFT IN VISUAL STYLE FROM LOTR TO THE HOBBIT DUE TO GUILLERMO'S UNIQUE ASTHETIC?
Guillermo del Toro: The basic designs, the preestablished designs will be only "updated" insofar as the epoch difference.

Half a century more or less which in Middle Earth terms is not that much but- think about how much our world has changed from – say 2001 to now…

The new settings and designs should blend in enough not to feel like a completely different world but yes, the movies are bound to have some distinctive stylistic imprint.
WILL GOLLUM PLAY A ROLE IN THE NEW FILM?
Guillermo del Toro: Yes! As all of you know, Gollum has a rather fascinating arch to go through and his alliance to Shelob or his period of imprisonment in Thranduil's, etc but it is early still- so early in fact that to reveal more would tie our hands and be counterproductive.
PETER, COULD CLARIFY WHAT YOUR ROLE WILL BE IN THE PRODUCTION OF THESE FILMS: WHAT EXACTLY DOES AN EXECUTIVE PRODUCER DO?
Peter Jackson: Truth is "Executive Producers" do a range of things on movies from a lot to virtually nothing! I see myself being one of a production team.

My interest is helping Guillermo make the very best films he can. I love writing and I'm looking forward to that. Guillermo will be writing, along with Fran, Philippa and myself.

As a director, I could never direct something I didn't have a hand in writing, and we're not expecting Guillermo to do that either.
If the director is part of the writing, it means he was there when the discussions took place, story decisions were made … he knows why things are the way they are, and what they need to achieve.

Everything is in a script for a reason, and only by being part of a writing team (or writing it yourself), do you really understand the intention of every beat.

I see my role as being part of that writing team, which will create the blueprint, and then helping Guillermo construct the movie.

I want Guillermo to make his movies, and I want to make sure we end up with a 5 movie series that's as good as it can possibly be.
WILL YOU BE USING THE SAME PRODUCTION TEAM (AS THE LOTR TRILOGY)?
Guillermo del Toro: Many of them will be back. I will supplement the FX departments, the design departments (with very interesting names), but the crew will utilize as many of the original elements as possible.
WHAT WAS IT ABOUT GUILLERMO THAT MADE YOU FEEL HE WAS THE RIGHT GUY TO CONTINUE ON THE SAGA OF MIDDLE-EARTH? ARE THE TWO OF YOU ON THE SAME PAGE FOR THE VISION, DIRECTION, AND STYLE THAT THESE MOVIES WILL HAVE? IF THE TWO OF YOU DISAGREE ON A POINT, WHO WINS OUT?
Peter Jackson: I'll talk more about this in a later question, but watching his films, he has respect for fantasy. He understands it, he's not frightened by it.

Guillermo also understands character, and how the power of any movie is almost always linked to how closely we empathize with characters within the story.

His work shows great care and love for the main characters he creates. He also has supreme confidence with design, and visual effects.

So many film makers are scared of visual effects – which is no crime, but tough if you're doing one of these movies!

If we disagree, the director has to win, because you should never force a director to shoot something they don't believe in.

But we're both reasonably practical and ego-free, and I believe that if we disagree, we both have the ability to express our differing theorys – state our case, like lawyers – and between us, work out what's best for the movie.
WHEN DO YOU EXPECT FILMING TO BEGIN?
Peter Jackson: At this point in time the plan is to write for the rest of this year and start early conceptual designs.

2009 will be dedicated to pre-production on both movies and 2010 will be the year we shoot both films back to back.

Post production follows one film at a time with The Hobbit being released Dec 2011, and F2 release Dec 2012.

That is the schedule in about as much detail as we have ourselves at the moment.
Check out the full transcript of the webchat at WETA's official site.
> Peter Jackson, Guillermo del Toro and The Hobbit at the IMDb
> Find out more about The Hobbit at Wikipedia