The winner of this year's Palme d'Or at the Cannes Film Festival is The Class (the French title is 'Entre les Murs').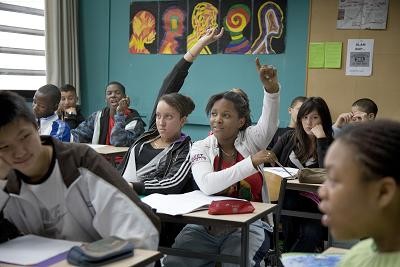 In typical Cannes style, the favoured films (Waltz with Bashir, Che, Gomorrah) lost out to an underdog and this is also the first time since 1987 that a French film (Maurice Pialat's Under the Sun of Satan, in case you were wondering) has won the top prize at Cannes.
Directed by Laurent Cantet, it is the story of a teacher in a tough Paris school based on an autobiographical novel by Francois Begaudeau (who plays himself in the film) about his life as a young teacher.
Sean Penn, as head of the nine-member jury, said:
It is an amazing, amazing film. It was our second unanimous decision.
Here are some critical reactions to the film, which screened quite late in the festival.
Justin Chang of Variety thought it was substantive and entertaining:
Talky in the best sense, the film exhilarates with its lively, authentic classroom banter while its emotional undercurrents build steadily but almost imperceptibly over a swift 129 minutes.

One of the most substantive and purely entertaining movies in competition at Cannes this year, it will further cement Cantet's sterling reputation among discerning arthouse auds in France and overseas.
A.O. Scott of the New York Times praises the 'freshness and precision':
The film, Mr. Cantet's fourth feature, concerns a young teacher dealing with a tough class in an urban high school.

It's hardly a new idea for a movie — from "To Sir With Love" to "Dangerous Minds" and beyond, Hollywood has always had a soft spot for melodramas of pedagogical heroism — but Mr. Cantet attacks it with freshness and precision, and without a trace of sentimentality.
Mike Goodridge of Screen Daily says it offers a 'rich microcosm' of today's French society:
The film focuses tightly on the dynamics and concerns of the classroom, never straying into details of the lives of kids or adults outside.

Yet even though it takes place entirely "entre les murs", it offers a rich microcosm of today's multi-ethnic French population and fascinating insights into the complicated dil emma s and misunderstandings which teaching – and indeed learning – can entail.
Geoff Andrew of Time Out thinks it is 'engrossing', 'lucid', 'subtle' and 'thought provoking':
Everything rings absolutely true in this film, and everything is utterly engrossing from start to finish, despite the apparent lack of a straightforward narrative during the first hour.

At the end, in a delightfully unexpected allusion to Plato's 'Republic', the filmmakers drop a hint as to what they've been up to; there are no easy answers proffered to the various questions raised about education, schools and society, but the film makes for admirably lucid, subtle and thought-provoking drama throughout.

And the kids are terrific.
Artificial Eye have bought the UK rights to the film.
Here is the trailer (in French):
> Official site of the Cannes Film Festival
> BBC News report on the win
> Variety reports on the brisk sales of the film
> The Class at the IMDb
> Green Cine with the rest of the Cannes winners