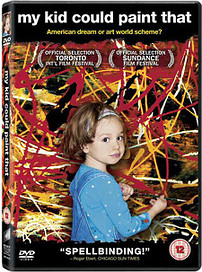 My Kid Could Paint That is a documentary that follows a young girl named Marla Olmstead, who gains fame as a child prodigy who can seemingly paint abstract art.
By the age of four, critics were comparing Marla's work with Jackson Pollock's and sales of her paintings were reaching $300,000.
But after 2005 profile by '60 Minutes' suggested that Marla had help from her parents – in particular her father – the story became more complex. Was Marla a genuine child prodigy or the innocent victim of a hoax?
Directed by Amir Bar-Lev (who made 2000's Fighter) it is a fascinating film that deals with a number of interlocking subjects such as childhood, the nature of art and the mystery of authorship.
The DVD has a number of extras that help flesh out the mysteries of this intriguing tale including:
Filmmaker Commentary
'Back to Binghamton' – a mini-doc with Director Amir Bar-Lev that includes follow-up interviews, Sundance Q & A, Binghamton Q & A, deleted scenes, etc.
'Kimmelman on Art' – a mini-doc with the New York Times art critic
The film is out now on DVD from Sony Pictures Home Entertainment
Watch the trailer here:
> Buy the film from Amazon UK
> Official site
> My Kid Could Paint That at the IMDB