Changeling is the latest film directed by Clint Eastwood to screen in competition at Cannes after previous efforts such as Mystic River (2003), White Hunter Black Heart (1990) and Pale Rider (1985).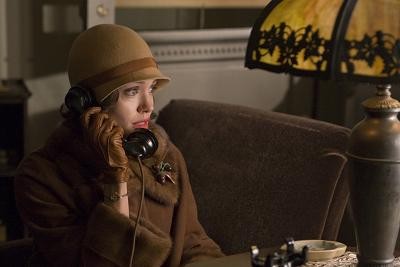 Set in LA in 1928 and stars Angelina Jolie as a woman whose young son goes missing. When the child is found months later, she suspects it might not be him.
Clint was also president of the jury in 1994 when Pulp Fiction scooped the Palme d'Or. Can this film win the big prize?
Here is a summary of the critical reaction:
Todd McCarthy of Variety is highly impressed, says it is 'far-reaching' and 'powerful':
A thematic companion piece to "Mystic River" but more complex and far-reaching, "Changeling" impressively continues Clint Eastwood's great run of ambitious late-career pictures.

Emotionally powerful and stylistically sure-handed, this true story-inspired drama begins small with the disappearance of a young boy, only to gradually fan out to become a comprehensive critique of the entire power structure of Los Angeles, circa 1928.

Graced by a top-notch performance from Angelina Jolie, the Universal release looks poised to do some serious business upon tentatively scheduled opening late in the year.
Mike Goodridge of Screen Daily says it is 'beautifully produced' and an early Oscar contender:
Beautifully produced and guided by Eastwood's elegant, unostentatious hand, it also boasts a career-best performance by Angelina Jolie who has never been this compelling.

Like Mystic River in 2003, it should go all the way from the Palais to the Academy Awards next March.
Kirk Honeycutt of The Hollywood Reporter feels it is compelling and praises Jolie's performance:
A true story that is as incredible as it is compelling, "Changeling" brushes away the romantic notion of a more innocent time to reveal a Los Angeles circa 1928 awash in corruption and steeped in a culture that treats women as hysterical and unreliable beings when they challenge male wisdom.

Jolie puts on a powerful emotional display as a tenacious woman who gathers strength from the forces that oppose her. She reminds us that there is nothing so fierce as a mother protecting her cub.
Richard Corliss of Time praises it as 'taut, twisty and compelling':
In that sense the movie is a companion piece to last year's Cannes entry A Mighty Heart, in which Jolie played the wife of kidnapped journalist Daniel Pearl — except that Changeling is far more taut, twisty and compelling.

….The movie becomes an ensemble piece, with a dozen or so character actors carrying the storyline. In other words, Changeling is exactly as good as its makings.

By the end, with its purposeful accumulation of depravities, both individual and institutional, Eastwood's non-style has paid off…
Kim Voynar of Cinematical thinks it is riveting and that Jolie excels:
Clint Eastwood's Changeling (which may or may not be now known as The Exchange), is a riveting drama about a missing boy and the undying constancy of a mother's love.

Angelina Jolie excels in a powerful performance as Christine Collins, whose nine-year-old son, Walter, disappeared in 1928.
Glenn Kenny of Some Came Running says it is a 'strong' and 'angry' picture:
The result is not as perfect a film as Eastwood has made, but it's damn strong, both as a story and an exploration of the parent-child bond and a polemic.

Because despite the fact that it deals with the corruption and venality of a past era, Changeling is at times a very angry picture; Eastwood's angriest, I think, since Unforgiven.
Incidentally, Andrew Hehir of Salon has posted some useful thoughts on the confusion surrounding the film's actual title:
For weeks the film has been listed in official festival materials under the title "Changeling," but a few days ago that title began to evaporate, almost as mysteriously as young Walter Collins does in the movie.

It screened on Tuesday morning in the Grand Théâtre Lumière under the French title "L'échange," with no English translation given.

That means "the exchange" — there's no clear French equivalent to the word "changeling" — and as the post-screening press conference was breaking up, host Henri Béhar said to Eastwood in tones of puzzlement, "We were all assured in writing that the title in English was now 'The Exchange.'"

Breaking out one of his trademark sphinx-like smiles — the mouth smiles, but the eyes don't — Eastwood replied, "It's in writing, but is it the truth?"

We all laughed, he got up and left the room, and we were stuck with a movie with no name, made by the Man With No Name.
The IMDb lists it as Changeling and I'm sticking with that until it, er, changes…
> Changeling at the IMDb
> See Eastwood and Jolie at the press conference on the official Cannes site