Woody Allen's latest film Vicky Cristina Barcelona is having it's out of competition premiere at Cannes tonight.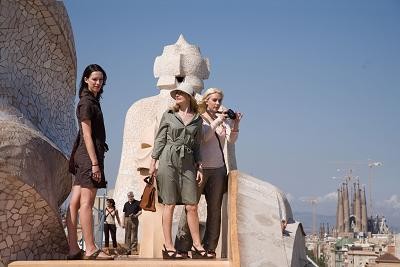 The film is about two young American women named Vicky (Rebecca Hall) and Cristina (Scarlett Johansson) who come to Barcelona for a summer holiday only to get involved with a local painter (Javier Bardem) and his tempestuous wife (Penélope Cruz).
Todd McCarthy of Variety thinks it is sexy and funny:
'Vicky Cristina Barcelona' is a sexy, funny divertissement that passes as enjoyably as an idle summer's afternoon in the titular Spanish city.

With Javier Bardem starring as a bohemian artist involved variously with Scarlett Johansson, Penelope Cruz and Rebecca Hall, pic offers potent romantic fantasy elements for men and women and a cast that should produce the best commercial returns for a Woody Allen film since "Match Point."

And, in the bargain, if Barcelona wants even more visitors than it already attracts, this film will supply them.
Richard Corliss of Time rates it as Woody's most engaging since Crimes and Misdeameanors (which by my reckoning is high praise indeed):
It's hard not to feel warmly toward Allen after VCB, his first vital movie since Match Point three years ago (we quickly throw the veil of oblivion over Scoop and Cassandra's Dream), and maybe his most engaging large-scale effort since, let's say, Crimes and Misdemeanors nearly 20 years ago.

It doesn't percolate with the inventive comic situations or quotable one-liners of the films that established his meta-movie credentials, Annie Hall and Manhattan; but, like them, this one is about people whose jobs are incidental to their real vocations of falling in love and messing things up.
Jeffrey Wells of Hollywood Elsewhere was less impressed:
The only parts of Woody Allen's Vicky Cristina Barcelona that feel truly alive and crackling are the Spanish-language scenes between Javier Bardem and Penelope Cruz.

I never thought I'd see the day when one of the great comedy writers of the 20th Century would write unintentional howlers, but this happens every so often in VCB, and I was not happy to witness this.
Ty Burr of the Boston Globe enjoyed it, despite some reservations:
I think I enjoyed Woody Allen's new movie, "Vicky Cristina Barcelona" a lot more than I should have. Certainly more than the people who gave it scattered boos after its Out of Competition screening here last night.

…In other words, the movie's inordinate, even ridiculous fun, despite an overly chatty narrative track (not sure by whom at this writing) that I wanted to slap down after about five minutes.
An even bigger problem is a persistent, obnoxious and thoroughly unwanted narration track that makes this story of overlapping, off-and-on love affairs in present-day Barcelona so on-the-nose and over-explained that I was feeling actively hostile less than 15 minutes in.
Kirk Honeycutt of The Hollywood Reporter was admiring, especially of the performances by Bardem and Cruz:
…the film belongs to Bardem and Cruz. This is a Spanish version of "Private Lives," a couple that cannot live apart or together, whose love will always burst into fiery combat.
Their scenes are some of the funniest Allen has ever put on film, and the culmination of this love/hate tango is not to be missed.

A voice-over narration for once actually works, urging the story on and slipping us past talk of art and poetry.

Javier Auirresarobe's cinematography and Alisa Lepselter's editing are unusually sharp, even by Allen's high standards.
Kim Voynar of Cinematical feels it is one of Allen's best films in years:
Cruz turns in a performance that's better, even, than her Oscar-nominated turn in Volver; her Maria Elena is on-the-edge crazy, but is also very funny and engaging.
Mike Goodridge of Screen Daily thinks its his best film since 1994's Bullets Over Broadway:
Vicky Cristina Barcelona, his first of several Spanish ventures, is as close to consistently delightful as Allen has been able to deliver since 1994's Bullets Over Broadway.

Given a dramatic boost by the vitality and charisma of Spanish superstars Javier Bardem and Penelope Cruz, this sunny romantic comedy could well be the director's biggest audience-pleaser in years.
Allen has created one of his best works in years, a film that is funny, philosophical, and imaginatively explorative of the meaning of love and desire.
The film is going to be distributed in the US by The Weinstein Company and gets a release there on September 5th.
Here is the international trailer:
And here is Woody, Rebecca Hall and Penelope Cruz sitting down for the press conference:
> Vicky Cristina Barcelona at the IMDb
> Cinematical report on today's press conference
> Stills from the film