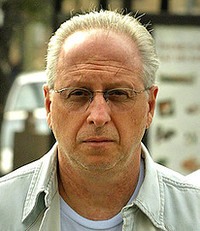 Private investigator Anthony Pellicano has been found guilty in the long running trial that exposed a murky world of wiretapping and intimidation in Hollywood.
Carla Hall and Tami Abdollah and of the LA Times report:
Anthony Pellicano was found guilty Thursday of scores of federal charges for conspiring to wiretap and intimidate dozens of celebrities and business executives, including Sylvester Stallone, Garry Shandling and developer Robert Maguire

The jury also delivered guilty verdicts against all four of Pellicano's co-defendants who played various roles in the private eye's sophisticated and illegal schemes to gather personal information on people, which he often used to gain advantages in the courtroom or in business dealings.

The co-defendants were former Los Angeles Police Sgt. Mark Arneson, former telephone company field technician Ray Turner, computer expert Kevin Kachikian and businessman Abner Nicherie.

The four were ordered to return to court for sentencing Sept. 24.

Pellicano, meanwhile, was ordered to remain in federal custody until his sentencing.
The whole saga had a cast of high profile Hollywood figures, with the likes of Garry Shandling, former agent Mike Ovitz and studio executives such as Paramount's Brad Grey and Universal's Ron Meyer, all connected in different ways to the unfolding drama.
The affair began when LA Times reporter Anita Busch received threats back in June 2002. She was  investigating alleged links between the actor Steven Seagal and the Mafia, when one morning she found that her car had been vandalised.
In a twist worthy of a bad mob movie, a note was taped to the windscreen saying "Stop" along with a dead fish. The FBI were called in and the trail led to an informant who taped a small-time criminal, who then in turn named Pellicano as the man who had hired him to intimidate Busch.
Seagal was cleared of any involvement in the scheme and the actor (and singer, let's not forget) has always denied any links to the Mafia.
Meanwhile Pellicano's office on Sunset Boulevard was raided by the FBI. According to official documents leaked to The Smoking Gun they found around $200,000 in cash and a cache of explosives, which included:
Fresh military-grade C-4 plastic explosives, anti-personnel grenades (along with the C-4, investigators found a detonation cord and blasting cap).

The amount of C-4 found, agents noted, could easily blow up a car and 'was, in fact, strong enough to bring down an airplane'.
Pellicano was charged with illegal possession of explosives and sentenced at trial to 30 months in prison.
A further investigation into the threats then followed and revealed an extraordinary wiretapping operation run by Pellicano, which cast a shadow over many high profile figures in Hollywood.
It turned out that actors such as Sylvester Stallone and Keith Carradine were wiretapped, whilst Garry Shandling was subjected to an illegal criminal background check.
It also emerged that stars like Chris Rock and Courtney Love received advice from Pellicano.
More seriously, director John McTiernan was sentenced to four months in jail for lying to the FBI about his relationship to Pellicano, although he has since appealed that decision.
The question now is, will all this be made into a movie?
Check out this VH1 video profile fom last year:
> Full story at the LA Times on the Pellicano verdict and an article from 2006 on his web of connections
> New York Times on the verdict
> Listen to audio of Mike Ovitz, Chris Rock and Courtney Love speaking to Pellicano via The Huffington Post
> A lot of information on Pellicano at Luke Ford's site
> Leaked document about the case at The Smoking Gun