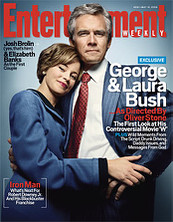 Shooting is about to begin on W., Oliver Stone's upcoming biopic of George W. Bush, with Josh Brolin playing the 43rd president of the United States.
EW has a cover story on the film, with the first photos of Brolin as Bush and an interview with Stone.
Stone promises it will be a 'fair' portrait of the president:
I think history is going to be very tough on him. But that doesn't mean he isn't a great story.

It's almost Capra-esque, the story of a guy who had very limited talents in life, except for the ability to sell himself.

The fact that he had to overcome the shadow of his father and the weight of his family name — you have to admire his tenacity. There's almost an Andy Griffith quality to him, from A Face in the Crowd.

If Fitzgerald were alive today, he might be writing about him. He's sort of a reverse Gatsby.
He also recalls meeting Bush at a Republican breakfast in 1998 when he was Governor of Texas:
I don't usually go to breakfast with anybody, but I wanted to prove that even though people thought I was a leftist I wanted to hear what they had to say.

It was funny, though — the minute I walked in the room the sound of the silverware kind of died. People were like, 'What's he doing here? Satan has walked in.

But I met George Bush and I remember thinking that this man was going to be president. There was just a confidence and enthusiasm I'd never seen in a candidate before, especially in a Republican.
Here is a comparison of the real Bush and the Brolin version: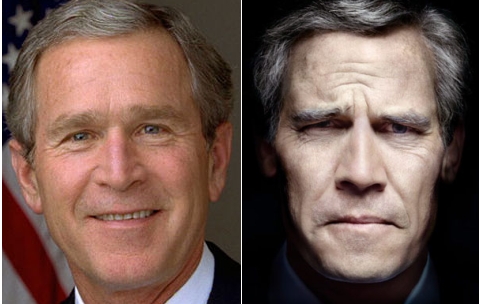 What do you think?
UPDATE 12/05/08: Lionsgate have acquired US and UK distribution rights for W.
Here is the official press release:
SANTA MONICA, CA (May 8, 2008) – LIONSGATE®(NYSE: LGF), the leading independent filmed entertainment studio, announced today that in a deal with Omnilab Media it has acquired North American distribution rights from QED International to W, a biopic about President George W. Bush directed by Academy Award® winner Oliver Stone (WORLD TRADE CENTER, PLATOON, WALL STREET) from a screenplay by Stanley Weiser (WALL STREET). Lionsgate will also distribute W in the U.K., Australia and New Zealand.  The announcement was made today by Lionsgate President of Theatrical Films Tom Ortenberg.

W stars Josh Brolin (NO COUNTRY FOR OLD MEN) as George W. Bush, Elizabeth Banks (SEABISCUIT) as Laura Bush, James Cromwell (THE QUEEN) as George Herbert Walker Bush, Academy Award® winner Ellen Burstyn (REQUIEM FOR A DREAM) as Barbara Bush, Thandie Newton (CRASH) as Condoleezza Rice, Jeffrey Wright (SYRIANA) as Colin Powell, Scott Glenn (THE BOURNE ULTIMATUM) as Donald Rumsfeld, and Ioan Gruffud (FANTASTIC FOUR) as Tony Blair.  The film's producers are Moritz Borman, Jon Kilik and Bill Block.

W begins production on May 12th in Louisiana.  Lionsgate is releasing the film in the US on October 17, 2008.

"It's an honor to be in business with Oliver Stone, a brilliant and consistently adventurous filmmaker," said Ortenberg.  "With W, he again demonstrates his creative vitality and genius for speaking to our times."

Commented Block, "W is in the most innovative hands with Lionsgate and Omnilab Media. With the backdrop of the election this fall, W will be an event picture that will be eagerly anticipated.  Oliver Stone, Moritz Borman and myself could not be more excited about Lionsgate leading the charge this October."

Christopher Mapp said, "We had a great experience with Lionsgate on THE BANK JOB, and we are delighted to reunite with them as we continue our strategy in investing in quality films that are made by innovative and unique storytellers."

Said Stone, "The impact of George W. Bush's presidency will be felt for many years to come.  Despite a meteoric, almost illogical rise to power, and a tremendous influence on the world, we don't really know much about Mr. Bush beyond the controlled images we've been allowed to see on TV.  This movie's taking a bold stab at looking behind that curtain.  I'm real pleased that Liongate has the independence necessary to bring this provocative story to an American audience."

Financing the film alongside QED are Omnilab Media, led by Christopher Mapp, David Whealy and Matthew Street; China-based Emperor Group, led by Albert Yeung and Feron Lau; Condor Films, led by Thomas Sterchi; and Global Entertainment Group, led by Johnny Hon, Adam Palin and Teresa Cheung.

The deal was negotiated for Lionsgate by Ortenberg, Wendy Jaffe, Executive Vice President Legal & Business Affairs, Acquisitions and Co-Productions, and Zygi Kamsa, Chief Executive Officer Lionsgate UK; for Omnilab Media by Managing Director Christopher Mapp, Executive Director Matthew Street and Executive Producer David Whealy; and for QED International by Bill Block, Chief Executive Officer, and Paul Hanson, Chief Operating Officer.

SYNOPSIS
Whether you love him or hate him, there is no question that George W. Bush is one of the most controversial public figures in recent memory.  In an unprecedented undertaking, acclaimed director Oliver Stone is bringing the life of our 43rd President to the big screen as only he can.  W takes viewers through Bush's eventful life — his struggles and triumphs, how he found both his wife and his faith, and of course the critical days leading up to Bush's decision to invade Iraq.

ABOUT QED INTERNATIONAL
QED is a Beverly Hills based independent film company that represents theatrical motion picture projects for sales and distribution in the worldwide marketplace. The company also acquires, develops, finances and produces its own motion pictures, either independently or in partnership with major studios, talent, and key foreign distributors.

QED Managing Partners include CEO, Bill Block; Senior Vice President, Worldwide Sales & Distribution, Kimberly Fox; Chief Operating Officer, Paul Hanson; and Vice President of Production, Elliot Ferwerda.

ABOUT OMNILAB MEDIA
Omnilab Media is an Australian and New Zealand based globally focused vertically integrated entertainment company involved in the production, visual effects, post production and financing of a diverse range of film and television properties.  Amongst the funding deals recently concluded by Omnilab Media are THE BANK JOB (Charles Roven, Roger Donaldson, Jason Statham), and THE MESSENGER (Mark Gordon, Woody Harrelson, Ben Foster).  Omnilab Media has also created a new digital film company with Kennedy Miller Mitchell to use groundbreaking digital storytelling, animation and visual effects. This will include HAPPY FEET 2, BABE 3 & MAD MAX  4 and a range of other blue-chip properties in development.

Christopher Mapp is Managing Director, Matthew Street Executive Director and David Whealy Executive Producer.  www.omnilab.com

ABOUT EMPEROR MOTION PICTURES
Emperor Motion Pictures (EMP) is the visual entertainment division of Emperor Group, a long-established Hong Kong corporation.   The company produces feature films, TV series and other programming aimed at three distinct markets: local, Asian and international.  It works within a broad range of genres, languages and budgets, with the sole connecting factor being its demand for quality.  EMP is also developing its own videogame division to take advantage of the latest advances in home entertainment technology.  The company also operates its own management company, which creates and executes career strategies for some of Asia's hottest talents.

ABOUT LIONSGATE
Lionsgate is the leading independent filmed entertainment studio, winning the 2005 Best Picture Academy Award® for CRASH, and the Company is a premier producer and distributor of motion pictures, television programming, home entertainment, family entertainment and video-on-demand content. Its prestigious and prolific library of nearly 12,000 motion picture titles and television episodes is a valuable source of recurring revenue and a foundation for the growth of the Company's core businesses. The Lionsgate brand is synonymous with original, daring, quality entertainment in markets around the globe.
W is set to open in the US on October 17th.
> Read the full story at EW
> Entries for W. and Oliver Stone at the IMDb
> Find out more about George W. Bush at Wikipedia