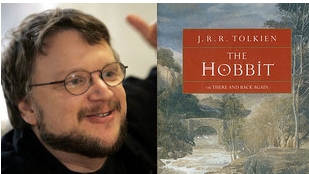 It is now official – Guillermo Del Toro will direct The Hobbit as two films shot back-to-back.
Dave McNary of Variety reports:
In a major step forward on "The Hobbit," Guillermo del Toro has signed on to direct the New Line-MGM tentpole and its sequel.

The widely expected announcement — which had been rumored for several weeks — came Thursday afternoon jointly from exec producers Peter Jackson and Fran Walsh, New Line president Toby Emmerich, and Mary Parent, newly named chief of MGM's Worldwide Motion Picture Group.

Del Toro's moving to New Zealand for the next four years to work with Jackson and his Wingnut and Weta production teams.

He'll direct the two films back to back, with the sequel dealing with the 60-year period between "The Hobbit" and "The Fellowship of the Ring," the first of the "Lord of the Rings" trilogy.

New Line is overseeing development and will manage production. Both pics are being co-produced and co-financed by New Line Cinema and MGM, with Warner Bros. distributing domestically and MGM handling international.
There isn't a script yet but it seems likely that Peter Jackson, Walsh and Philippa Boyens will collaborate with Del Toro.
With the Mexican director of Cronos, Hellboy and Pan's Labyrinth on board for the next four years, it seems that the two movies will be shot back-to-back next year and released in late 2011 and 2012.
The WETA production facilities – built for The Lord of the Rings trilogy – will be used for both films, and New Zealand will once more stand in for Middle-earth.
For those not familair with the book, the story of The Hobbit pre-dates the Rings trilogy and concerns Bilbo Baggins taking the Ring of Power from Gollum.
> Full story at Variety
> Find out more about Guillermo Del Toro at Wikipedia