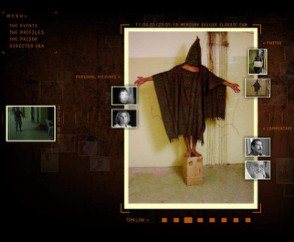 The website for Standard Operating Procedure is now live.
It is the new documentary from director Errol Morris and deals with the photographs taken during the Abu Ghraib prison scandal in Iraq.
The website for his last film – The Fog of War – won a Webby Award in 2004 and this one has a similar use of flash.
It also stresses the the importance of the actual photos as they are scattered all over the site.
As Morris says in the official Q&A:
It all starts with the photographs. They are at the core of this whole project.

270 photographs were given to the Army Criminal Investigation Division, and many of them appear in the movie.

Standard Operating Procedure is my attempt to tell the story behind these photographs, to examine the context in which they were taken.

People think they understand the photographs, that they are selfexplanatory.

They think they know what they are about – but do they, really? That's the question.

Megan Ambuhl, one of the soldiers in the movie, asks: have we looked "outside the frame?" This film is an attempt to do that.
The film opens in the US on April 25th in limited release
> Official site for Standard Operating Procedure
> Participant site for the film