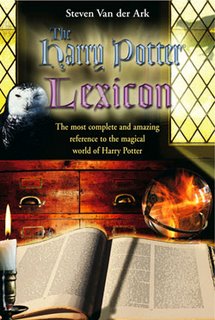 J.K. Rowling and Warner Bros are suing the publishers of an 'unauthorised' Harry Potter dictionary called The Harry Potter Lexicon.
RDR Books of Michigan said the author of the Lexicon, Steve Vander Ark, based it on his fan website, which has been very popular with Potter fans.
According to Reuters, Rowling herself had called it "a great site".
However, the author wants to write her own definitive Harry Potter encyclopedia and donate the proceeds to charity.
She says:
I cannot …approve of 'companion books' or 'encyclopedias' that seek to pre-empt my definitive Potter reference book for their authors' own personal gain.

The losers in such a situation would be the charities that I hope, eventually, to benefit.
Nikke Finke of Deadline Hollywood Daily reports:
The company, which normally publishes books about travel and Judaica, will defend The Harry Potter Lexicon which began online and is about to become what it says is a "reference guide" which Rowling can't lay claim to.

But issues of copyright infringement and fair use are in dispute over online material that's been subsequently published.

…Rowling will be the first witness for the plaintiffs. "It's very important to her," an insider told me Friday night. "She doesn't feel that somebody else should be effectively ripping off her work and infringing on her intellectual property."
This case is set for bench trial (which means no jury) in the New York Federal District Court of Judge Robert Patterson on Monday.
RDR Books defence team includes people from the Fair Use Project at Stanford University Law School.
They argue:
In support of her position Ms. Rowling appears to claim a monopoly on the right to publish literary reference guides, and other non-academic research, relating to her own fiction.

This is a right no court has ever recognized. It has little to recommend it.

If accepted, it would dramatically extend the reach of copyright protection, and eliminate an entire genre of literary supplements: third party reference guides to fiction, which for centuries have helped readers better access, understand and enjoy literary works.
You can read their legal brief here, whilst Team Potter's brief is here, along with a further reply here.
This is a tricky one – although Rowling and Warner Bros may indeed have a case, this could easily backfire.
Even if they win and protect the 'Potter brand', the danger is that they'll look like they are punishing the fan culture that has helped make the books and films so popular.
Or are the Potter books too successful and ingrained in pop culture to be damaged by any fall out from this?
Leave your thoughts below.
> Reuters report on the case from last October
> Nikki Finke at DHD reports on the case
> The Fair Use Project at Stanford University Law School
> The Harry Potter Lexicon