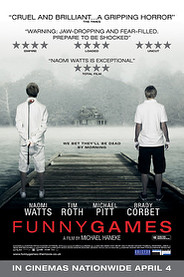 In 1997, director Michael Haneke made Funny Games – a disturbing but memorable film about a middle class family terrorised by two young sociopaths.
In 2005, producer Chris Coen approached Haneke with the idea to remake the film in English and he agreed to direct this new US version.
It stars Naomi Watts and Tim Roth as the married couple, Devon Gearhart as their young son and Michael Pitt and Brady Corbet as the mysterious men who turn up at their holiday home.
I spoke to Chris recently about various aspects of the film including: how the remake came about, the recent reception certain US critics gave the film and the challenges of remaking it shot-for-shot.
Listen to the interview here:
[audio:http://filmdetail.receptionmedia.com/Chris_Coen_on_Funny_Games.MP3]
To download the interview as a podcast via iTunes just click the image below:
Funny Games is out at UK cinemas this Friday
> Download this interview as an MP3 file
> The official site for Funny Games
> Buy the original Funny Games on DVD from Amazon UK
> Chris Coen and Michael Haneke at the IMDb
> John Wray's lengthy profile of Michael Haneke in the New York Times last September
> A previous post on the US critical reaction to the film