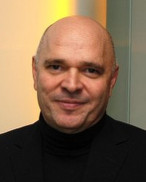 Director Anthony Minghella has died aged 54.
BBC News report:
He had an operation for a growth in his neck last week and the operation seemed to have gone well.

But he had a fatal haemorrhage at 0500 GMT on Tuesday.
It is very sad loss for the British film industry, as Minghella had achieved critical and commerical success in Hollywood, but also helped get other films off the ground as a producer.
Early in his career he won awards for his radio plays and was a script editor on Grange Hill in the mid 80s.
But it was with Truly, Madly Deeply in 1990 that his film career really began, even though it was initially a TV movie that went on to get a theatrical release.
After the relative disappointment of his next film Mr Wonderful – a 1993 romantic comedy with Matt Dillon and Annabella Sciorra, he took on the challenge of adapting Michael Ondaatje's novel The English Patient.
Despite numerous financial difficulties in getting the film made, it ended up at Miramax and the end result was a critical and commercial triumph as it won 9 Oscars.
His next film was The Talented Mr Ripley, another literary adaptation (based on Patricia Highsmith's novel) and although it was not quite as successful, it may perhaps thought of as his finest work.
In retrospect, the cast reads like a roll call of actors who would go on to greater success in the ensuing decade: Matt Damon, Jude Law, Gwyneth Paltrow, Philip Seymour Hoffman and Cate Blanchett.
His next two films were ambitious: 2003 saw him direct Cold Mountain – an accomplished adaptation of Chalres Frazier's civil war set novel with Jude Law and Nicole Kidman in the lead roles, whilst his most recent work was 2006's Breaking and Entering, a drama set in contemporary London with Jude Law, Robin Wright Penn, Juliette Binoche and Ray Winstone.
Along with Sydney Pollack, he set up Mirage Pictures and helped produce a diverse slate of films such as Heaven, The Quiet American, The Interpreter, Catch a Fire and Michael Clayton.
His most recent work was a 90 minute pilot for The No. 1 Ladies Detective Agency, which was scheduled to air on BBC1 this Sunday. Based on the novel by Alexander McCall Smith, it is about a Botswanan woman starts up the country's first female-owned detective agency.
He was also chairman of the British Film Institute between 2003 and 2007.
Despite his undoubted filmmaking skills, a lot of people in the industry had an enormous amount of time and respect for Anthony as person. One actor I spoke to today – not a huge star by any means – told me that he received a hand written letter after enquiring about a possible supporting role in Cold Mountain. He didn't get the part but it was a measure of the man that he took the time out to reply personally.
Although I never met him, people who worked with him always had good things to say about him – both on and off the record – and in the film industry that isn't always the case.
This is a short video of Anthony talking about his life and career to producer Duncan Kenworthy:
This video is Anthony and Micahel Ondaatjie talking to Charlie Rose about The English Patient in 1996:
UPDATE 20/03/08: Friends of Anthony have set up a blog where people who knew or worked with him can leave a message or memory.
Mail can be sent to Old Chapel Studios, 19 Fleet Road, London NW3 2QR.