VooZoo is a new Facebook application that could turn out to be an interesting experiment in marketing movies, even if it has a silly Web 2.0 name.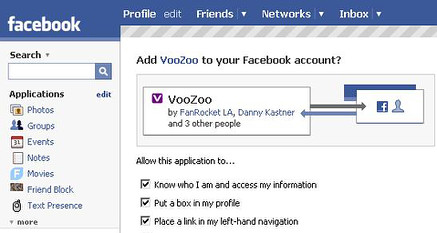 Paramount have teamed up with a new company named FanRocket in order to provide clips for it.
The AP report:
Paramount Pictures will become the first major studio to make clips from thousands of its movies available for use on the Internet.

The unit of Viacom Inc. is teaming with Los Angeles-based developer FanRocket to launch the VooZoo application Monday on Facebook.

The service gives Facebook users access to footage from thousands of movies, ranging from "The Ten Commandments" to "Forrest Gump," to send to others on the popular social networking site.

"The short clips for a movie that you've already seen before helps you relive the moment," Paramount senior vice president of entertainment Derek Broes said.

The clips last from a few seconds to several minutes and cover the gamut from Eddie Murphy's guffaw in "Beverly Hills Cop" to Audrey Hepburn's pleas over her "no-name slob" cat in "Breakfast at Tiffany's."

The studio will market DVDs of the movies through a button that appears after each clip is played. It eventually wants to use the application to virally market upcoming releases.

FanRocket founder Danny Kastner said he is aiming to get a few hundred thousand users within two months and added that the company is in talks with other Hollywood studios to package their titles on VooZoo.

That could take time, however, since Paramount staffers needed more than a year to select clips from the archive and tag them with search terms.
If you are on Facebook, you add it as an application and you can select a film clip from the Paramount back catalogue.
And then? Well, that's where an interesting idea gets a little murky.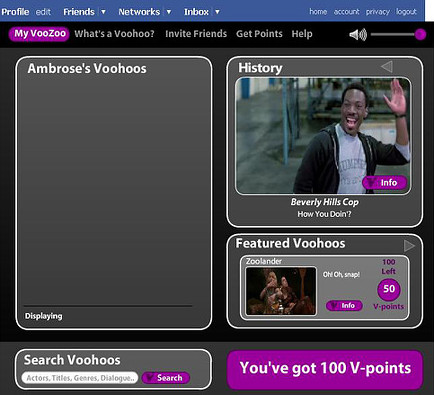 It looks like you buy "VooHoo" points (not VooZoo – which is already confusing) via PayPal and then you can send a limited amount of clips to your Facebook friends.
Now, part of this is a good idea. As one of the big studios, Paramount have an amazing library of film and TV titles (including The Godfather, The Ten Commandments, Saturday Night Fever, Airplane!, Raiders of the Lost Ark and the Star Trek franchise) and making snippets available on a huge social network is undoubtedly a positive move.
But are people really going to pay just to send clips to one another? Aren't they already emailing or posting YouTube videos anyway? Maybe it will make Paramount some money, but why don't they let users download clips and get creative with them?
When you look at some of the best trailer mash ups and fake posters on the web there is a lot of creativity and passion out there. If say, a bunch of Beverly Hills Cop fans made mash ups from the film, they are more likely to spread the word about the film and buy the DVD.
So why all the confusing stuff about VooHoo points and PayPal? Surely the money is in the content (i.e. the movies) that people want to buy? I'll say the jury is out on this one.
But one thing Paramount did do recently that piqued my interest was send out invites to a free Iron Man preview next month via Facebook. I saw that a couple of friends had RSVPd so I joined up too.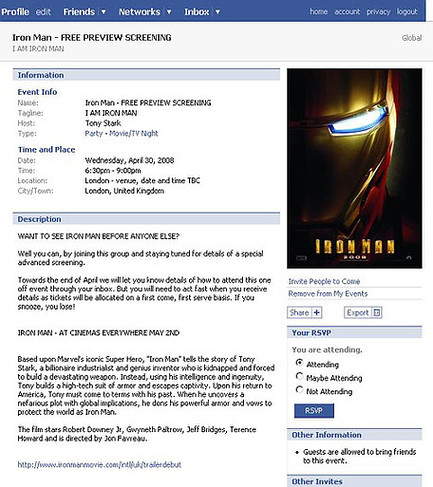 Although it is screening a couple of days before it opens in early May, it should be a great word of mouth tool. It will inform all the users, who will see it in countless news feeds and on their friends' profiles over the next few weeks.
So at least in one respect, Paramount are headed in the right direction.
> The AP story on VooZoo
> Facebook's Mark Zukerberg is interviewed at SXSW – an event which got a lot of people Twittering
> Brush up on the history of Paramount at Wikipedia
> Mashable report on the deal Paramount signed with Joost back in September