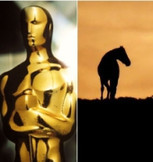 Not long to go now before the Oscars and as you may have noticed I've already put up my predictions in full.
However, I thought I'd also post some thoughts about who the dark horses are in the major categeories.
Some categories are slam dunks but others much harder and at this stage last minute doubts always creep in.
So here are my predictions set alongside the dark horses who could cause a surprise
BEST PICTURE
My prediction: No Country for Old Men
Dark Horse: Michael Clayton
BEST DIRECTOR
My Prediction: Ethan Coen, Joel Coen, No Country for Old Men
Dark Horse: Paul Thomas Anderson, There Will Be Blood
BEST ACTOR
My Prediction: Daniel Day-Lewis, There Will Be Blood
Dark Horse: George Clooney, Michael Clayton
BEST ACTRESS
My Prediction: Julie Christie, Away from Her
Dark Horse: Marion Cotillard, La Vie en Rose or Ellen Page, Juno
BEST SUPPORTING ACTOR
My Prediction: Javier Bardem, No Country for Old Men
Dark Horse: Hal Holbrook, Into the Wild
BEST SUPPORTING ACTRESS
My Prediction: Cate Blanchett, I'm Not There
Dark Horses: Tilda Swinton, Michael Clayton or Amy Ryan, Gone Baby Gone
BEST ADAPTED SCREENPLAY
My Prediction: Ronald Harwood, The Diving Bell and the Butterfly
Dark Horse: The Coen Brothers, No Country for Old Men 
BEST ORIGINAL SCREENPLAY
My Prediction/Dark Horse: Tony Gilroy, Michael Clayton (it should be noted that Diablo Cody's script for Juno is the hot favourite in this category but I fancy an upset, so my predicton is for the dark horse)
> Check out my predictions for every category
> Download and print out the official Oscar ballot
> Official site for the Oscars
> Find out more about this year's Oscars and nominees at Wikipedia