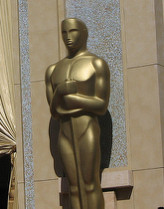 The Oscars take place this Sunday and I'll post my predictions in the next 24 hours.
But until then here are some links to useful websites about everything to do with the Academy Awards.
OFFICIAL SITE
The official site for the Oscars is worth a look for any announcements but perhaps more interesting is their official YouTube channel with highlights from previous years, including David Niven politely putting down a streaker and Michael Moore blasting George W Bush, whilst Academy president Sid Ganis can be seen video blogging at this year's nominees luncheon.
Plus, they have an Oscar ballot form with all the nominees which you can download as a PDF file.
SPECIALIST SITES & BLOGS
The awards season isn't all about expensive frocks and Hollywood backslapping. It provides vital exposure for less mainstream films and careers are boosted by nominations and wins.
There are some great sites (from both independent and mainstream media) that cover the awards season in great depth, so if you want to get stuck into the minutiae of ballots, contenders and the politics of Oscar, check out: In Contention, Awards Daily, And The Winner Is, Variety's Award Central and Red Carpet District, The Envelope at the LA Times, Gold Rush at The Hollywood Reporter, The Carpetbagger at the New York Times and Little Gold Men at Vanity Fair.
More general blogs worth always worth checking out around Oscar time are The Hot Blog by David Poland, Hollywood Elsewhere by Jeff Wells, Thompson on Hollywood by Anne Thompson and Deadline Hollywood Daily by Nikki Finke.
PREDICTION CHARTS
If you are in an Oscar pool or putting a bet on who might win this Sunday, there are a batch of sites that collate a bunch of different pundits and see who is favoured to win in each category.
Among the best are Gurus of Gold, Awards Daily Oscar Watch and The Buzzmeter.
OSCAR HISTORY
If you want to delve in to the history of the Oscars, then Wikipedia is a treasure trove of information with detailed sections on the awards, AMPAAS, a list of Best Picture winners and a list of records.
Filmsite.org has an extensive list of winners and nominees, whilst The Times have a handy one sheet of Schott's Oscar Almanac.
Do you know any decent Oscar sites? Leave them in the comments below.