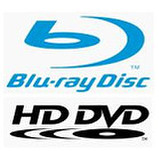 The hi-def DVD format war looks like it is officially over.
The writing was on the wall when Warner Bros went exclusively with Blu-Ray and key retailers like Netflix, Best Buy and Wal-Mart followed suit.
But now Reuters are reporting that Toshiba – the originator of HD-DVD – are ready to surrender:
Toshiba Corp is planning to give up on its HD-DVD format for high-definition video, conceding defeat to the competing Blu-Ray technology backed by Sony Corp, a company source said on Saturday.

Japanese public broadcaster NHK had earlier reported that Toshiba would suffer losses in the tens of billions of yen (hundreds of millions of dollars) as it scrapped production of HD DVD players and recorders and took other steps to exit the business.
The company source told Reuters that Toshiba was in the final stages of planning to exit the HD DVD business and that an official decision would be made soon.
Now that this fight seems over, will we now see a wider battle between downloads and optical discs?
Or will consumers keep resisting hi-def and stick with regular DVDs for the foreseeable future?
UPDATE 19/02/08: Toshiba themselves have now officially confirmed the inevitable.
They will phase out production of HD DVD players and recorders and will shut the business by the end of March.
BBC News quote Toshiba president Atsutoshi Nishida as saying:
"It was an agonising decision for me, but I thought if we kept running this business it would have grave ramifications for the management of our company. We made a quick decision, judging that there is no way of winning the competition."
They also have an article on why Blu-ray won which can be boiled down to three salient points:
Blu-ray drives in PS3 consoles: This meant that there were about 10.5 million players in homes worldwide before you count in stand alone players. Compared this to sales of 1 million HD DVD stand alone players – plus the need for an external drive for Xbox consoles – and you can see why Sony had the edge.
Sony had crucial Hollywood leverage: Sony own one of the major film studios and used that to their advantage by recruiting Disney and Fox early on. When Warner Bros switched sides from the HD-DVD camp, the writing was on the wall. Toshiba were willing to offer studios short term cash incentives, but in the long run getting the winning format was always going to be the key factor for the studios.
The painful lesson of Betamax: Sony had already lost a format war in the 80s with Betamax being defeated by the inferior but cheaper VHS, so it was determined this time around not to repeat the same mistakes.
> Deadline Hollywood Daily with more details on the end of the format war
> Comparison of HD-VD and Blu-ray formats
> The Downfall of HD-DVD – the funny viral video which used scenes from the WW2 film Downfall to comment on Warners leaving HD-DVD
> Variety report on the end of the format war
> Official press release from Toshiba
> Yuri Kageyama of the AP in Tokyo on the news
> BBC News on why Blu-ray won