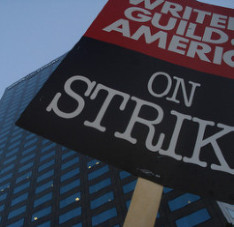 The WGA strike is now officially over.
Variety say:
"The strike is over," Patric Verrone said, dispassionately but with the hint of a smile. "Our membership has voted. Writers can go back to work."

The WGA West prexy announced the news, something the town had taken as a fait accompli, shortly before 7 p.m. Tuesday at the Writers Guild Theater in Beverly Hills. Some 92.5% of the 3,775 ballots cast were in favor of ending the 100-day strike, with 3,492 members voting yes and 283 die-hards ready to tilt at the windmill of continuing the work stoppage that began Nov. 5.

The vote on lifting the strike concluded a mere three days after the WGA cinched its contract agreement with the Alliance of Motion Picture and Television Producers in the wee hours of a Saturday morning. The strike vote was held over a 48-hour frame, with members able to vote in person at the WGA Theater and at Gotham's Crowne Plaza Hotel, or via fax.
The WGA have announced it on their website:
On Tuesday, members of the Writers Guilds East and West voted by a 92.5% margin to lift the restraining order that was invoked on November 5th. The strike is over.

Writing can resume immediately. If you were employed when the strike began, you should plan to report to work on Wednesday. If you're not employed at an office or other work site, call or e-mail your employer that you are resuming work.

If you have been told not to report to work or resume your services, we recommend that you still notify your employer in writing of your availability to do so. Questions concerning return-to-work issues should be directed to the WGAW legal department or the WGAE's assistant executive director.

The decision to begin this strike was not taken lightly and was only made after no other reasonable alternative was possible. We are profoundly aware of the economic loss these fourteen weeks have created not only for our members but so many other colleagues who work in the television and motion picture industries.

Nonetheless, with the establishment of the WGA jurisdiction over new media and residual formulas based on distributor's gross revenue (among other gains) we are confident that the results are a significant achievement not only for ourselves but the entire creative community, now and in the future.

We hope to build upon the extraordinary energy, ingenuity, and solidarity that were generated by your hard work during the strike.

Over the next weeks and months, we will be in touch with you to discuss and develop ways we can use our unprecedented unity to make our two guilds stronger and more effective than ever.

Now that the strike has ended, there remains the vote to ratify the new contract. Ballots and information on the new deal, both pro and con, will be mailed to you shortly. You will be able to return those ballots via mail or at a membership meeting to be held Monday, February 25th, 2008, at times and locations to be determined.

Thank you for making it possible. As ever, we are all in this together.

Best,

Patric M. Verrone
President, WGAW

Michael Winship
President, WGAE
The media titans – who include Peter Chernin (Fox), Bob Iger (Disney), Brad Grey (Paramount), Jeff Zucker (Universal), Barry M. Meyer (Warner Bros), Leslie Moonves (CBS), Harry Sloan (MGM), Michael Lynton (Sony) – in a collective statement, say:
This is a day of relief and optimism for everyone in the entertainment industry. We can now all get back to work, with the assurance that we have concluded two groundbreaking labor agreements – with our directors and our writers — that establish a partnership through which our business can grow and prosper in the new digital age.

The strike has been extraordinarily difficult for all of us, but the hardest hit of all have been the many thousands of businesses, workers and families that are economically dependent on our industry.

We hope now to focus our collective efforts on what this industry does best – writers, directors, actors, production crews, and entertainment companies working together to deliver great content to our worldwide audiences.
BBC News crunch out some numbers:
The strike, which lasted 14 weeks, was the most damaging period of industrial action to hit Hollywood in 20 years.
Some 10,500 writers stopped work on 5 November, a few days after their old contract with studios ended.
If writers return to work on Wednesday, the thousands of production staff who were put of out of work as scripts dried up will take weeks to mobilise while new material is prepared.
The strike is said to have cost Los Angeles' film and TV industry around $733m (£374m), with the wider economy losing around $1.3bn (£663m).
Studio executives say it will take about two months for new TV programmes to emerge.
Studios will have to decide which of the 65 affected series will come back, with hits House, CSI, Grey's Anatomy and Desperate Housewives likely to get priority.
So, although the strike is now over, important questions still remain:
1) Who came out as the winner?
2) In future, wouldn't it be healthier for both sides to communicate with more frequency and depth?
3) Is a more bitter and longer repeat of this strike, three years from now, inevitable?
> Variety report on the end of the strike
> Nikki Finke with more on the strike at Deadline Hollywood Daily
> More on the strike at Wikipedia