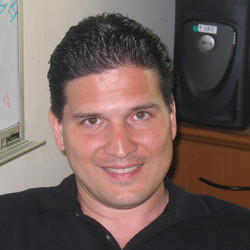 You may not have heard of Ron Fedkiw, but on February 9th he and two collaborators at special effects powerhouse Industrial Light and Magic will be awarded an Oscar for their pioneeering SFX work.
Fedikew is currently an Associate Professor in the Department of Computer Science at Stanford University and has consulted at ILM since 2000.
The seas in the Pirates of the Caribbean sequels and the dragon's flaming breath in Harry Potter and the Goblet of Fire have all come about – in part – to his work on computer-generated fluids.
As he puts it:
My research is focused on the design of new computational algorithms for a variety of applications including computational fluid dynamics and solid mechanics, computer graphics, computer vision and computational biomechanics.
To see that in action check out this simulation of waves against a lighthouse:
and this glass of water:
They eventually help create the ground work for the climax to a big film like Pirates 3:
[Link via Digg]
> Ron's department page at Stanford
> Finds out more about ILM at Wikipedia